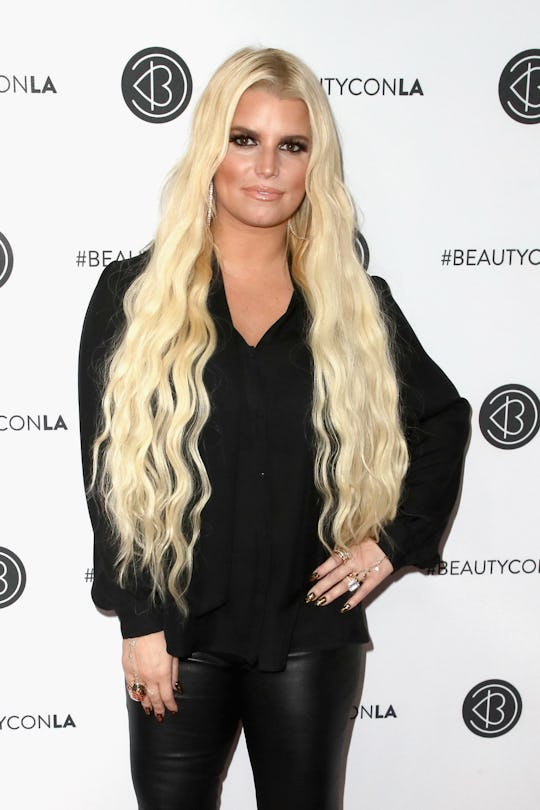 David Livingston/Getty Images Entertainment/Getty Images
Jessica Simpson's Halloween Costume Embraced Her Bump In The *Best* Way Possible
Unlike some other celebrity parents out there, Jessica Simpson waited to show off her Halloween costume until the last minute. And I think its safe to the say the wait was worth it because Jessica Simpson's Halloween costume embraced her pregnancy bump in the most incredible way.
Simpson, mother to 6-year-old Maxi Drew and 5-year-old Ace Knute, announced her third pregnancy in September. The reveal arrived just in time for Halloween season, a situation Simpson and her husband, Eric Johnson, took full advantage of. Case in point: Simpson and Johnson dressed up as Arnold Schwarzenegger and Danny DeVito, who played brothers in the 1988 movie Twins. Talk about a genius idea.
In the film, DeVito and Schwarzenegger play fraternal twins separated at birth due to a science experiment went wrong. The plot is a bit convoluted, but basically, Julius and Vincent's conception happened after a group of scientists used the DNA of six different fathers and embryo of one woman, Mary Ann Benedict, in an experiment. The goal was to create the perfect child, but problems arose when the embryo split into two.
After Benedict gives birth to fraternal twins, the scientists tell her Julius didn't survive, while never making mention of Vincent. Julius goes to live with one of the scientists, while Vincent grows up in an orphanage and on the streets. Julius' dad reveals the truth about his background on his 35th birthday, which leads him on a mission to find Vincent. Once the two reunite in Los Angeles, hilarity ensues.
So, can you guess which character Simpson went as? Yep, she channeled DeVito on All Hallows' Eve. The whole thing is pretty amazing, all the way from Simpson's "bald" head to her swagger in the pic.
"TWINS #DannyDeVito #ArnoldSchwarzenegger #HappyHalloween, Simpson captioned the shot, according to Instagram.
Simply phenomenal. Not only am I impressed by how Simpson creatively incorporated her bump into the costume, but I also love how confident she appears in the pic.
Soon after Simpson shared the post, a ton of people chimed in to compliment her genius idea.
"My jaw actually fell open! Lol! Amazing," someone commented on the snap.
"This is the best celebrity costume and use of a baby bump that I have ever seen," a fan said.
"This is the best! I had no idea that was you!!" a person wrote. "This is freaking epic!"
Of course, Simpson is no stranger to amazing Halloween costumes. The mom dressed up as singer Willie Nelson for the holiday in 2017, a getup that earned her widespread praise. Simpson went all out for the occasion, even going as far to don a gray beard and long braids to properly pay tribute to the icon.
"Willie, Waylon, Belle and Cowboy Ace #Halloween2017," Simpson captioned the impressive ensemble.
Oh, and how could I forget Simpson's mummy costume from 2011? She wore the costume to announce her first pregnancy, writing, according to People: "It's true — I'm going to be a mummy!"
Hats off to Simpson for killing the Halloween costume game once again — you're the MVP of putting a creative spin on pregnancy bumps.