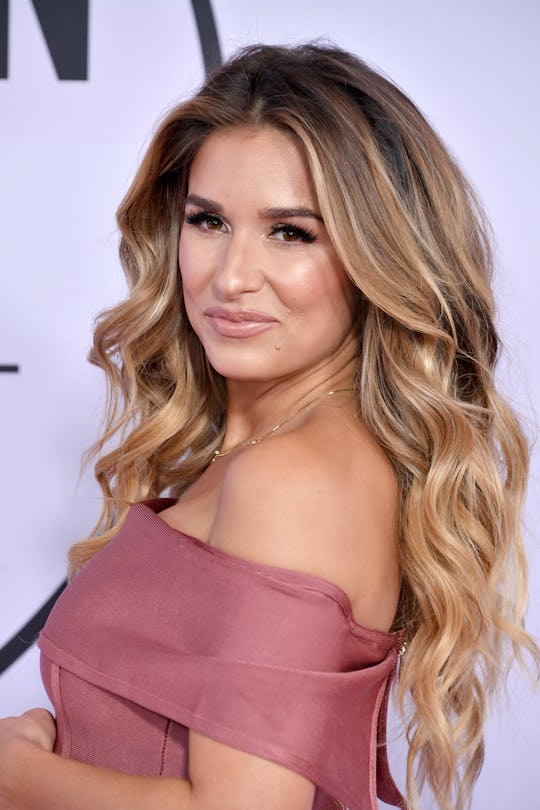 Neilson Barnard/Getty Images Entertainment/Getty Images
Jessie James Decker Gave Birth To Baby No. 3 & Announced The News With The *Sweetest* Photo
Jessie James Decker has won her fans' hearts by getting real about motherhood, and now she's going to have even more motherhood to talk about! On Monday, the country singer revealed some very exciting news via Instagram. Jessie James Decker gave birth to a baby boy, her third child with NFL husband Eric Decker, and the photo reveal is adorable, straight from the hospital, and full of the no-frills honesty that fans love her for.
Decker, age 29, posted a photo of herself holding her newborn son in the hospital bed, still hooked up to IVs and monitors, looking at him peacefully. In the caption she wrote, simply, "Forrest Bradley Decker born March 31st weighing 9lbs. We are so in love." No fancy lighting, no cute outfits. Just a mother holding her child, very happy to have him here.
Little Forrest joins two older siblings, 4-year-old Vivianne "Vivi" Rose and 2-year-old Eric "Bubby" Thomas Jr. In fact, it seems that, in large part, Forrest has Vivi to thank for his existence. Decker told People that she and her husband weren't sold on having a third child, but that Vivi wanted another baby sibling so badly, she literally prayed to Jesus for one every night.
Needless to say, Vivi's probably feeling pretty excited right about now.
Decker has been very open with fans over the course of her pregnancies. She's posted various pictures of her bump to social media, sure, but she's also gone into detail about the, shall we say, less magical aspects of pregnancy. For example, back on Feb. 13, when Decker was into her 33rd week of pregnancy, she posted a bump picture to Instagram, writing:
Working on week 33! Sleeping is now not possible. Can't get comfortable at all. He feels so low that I spend all night getting up to pee or to move from side to side. He also hiccups the strongest out of my 3 and all night long. But even though it's been tough have to stop and realize this is my last baby and how special it's been.
It's easy to look at the photos that many celebrities post of their pregnancies and think that the whole process is rainbows and joy, so it's nice to get an occasional reminder that growing another human being inside of you can be very hard work.
And back when she was pregnant with her second child, she told Parents all about her struggles with morning sickness the first time around, saying:
With my daughter Vivianne, I had horrible morning sickness. I threw up every day, sometimes twice, for five months, which then made me insanely hungry. So I'd stuff my face to try not to feel nauseated, and I gained 55 pounds. On my 5'1" frame, that was brutal!
While mom fans have been loving her honesty, they really went wild for something else she did over the course of this most recent pregnancy — a music video for her song "Flip My Hair," in which she danced around in a black bodysuit, visibly pregnant, surrounded by a bunch of other expectant moms. And they weren't just dancing to timid, easy choreography, either. Decker and her backup dancers went all in, sending the message that even though they were pregnant, they were still totally sexy and powerful.
It seems safe to bet that Decker and her family will continue documenting their lives through all the beautiful moments, the messy moments, and the ones in between, both on social media and on their reality show Eric and Jessie. Here's hoping we get another great music video about motherhood soon. Congratulations to the Decker family, and welcome to little Forrest!
Check out Romper's new video series, Bearing The Motherload, where disagreeing parents from different sides of an issue sit down with a mediator and talk about how to support (and not judge) each other's parenting perspectives. New episodes air Mondays on Facebook.