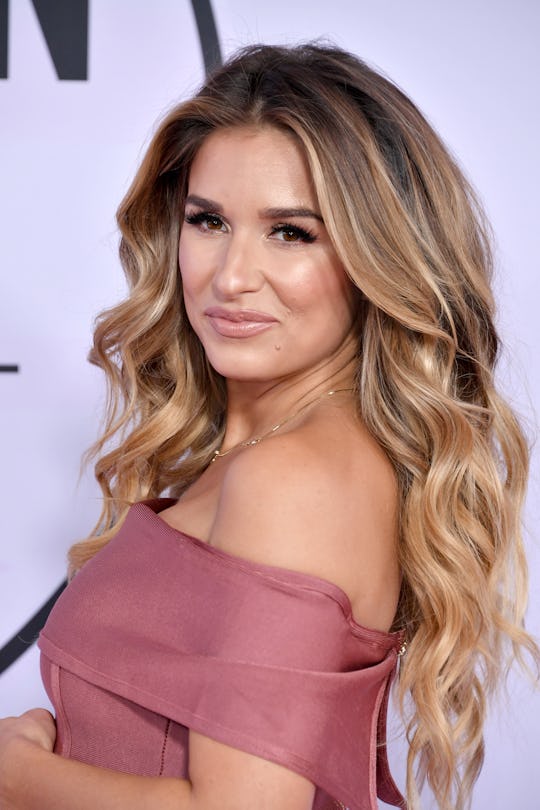 Neilson Barnard/Getty Images Entertainment/Getty Images
Jessie James Decker Is Here To Remind Everyone What Breastfeeding *Really* Looks Like — PHOTO
Breastfeeding is a lot of things: beautiful, natural, preferred by some, difficult for others, totally optional for everyone. But if there's anything it's not, that would be convenient at all times. New moms know that when it comes to feeding their babies, there's no such thing as an ideal time or schedule that isn't strayed from now and again. That's why Jessie James Decker's breastfeeding-on-the-go photo makes such an important point about why new moms should remember that things aren't always as *picture perfect* as they may seem online.
Decker took to her Instagram account to share a photo of herself breastfeeding her son, Forrest, and shared the following story about how she had to maneuver a feeding on a long drive home. "Sometimes ya gotta eat on the job... when baby is hungry ya gotta feed em no matter what you're doing," she began.
The post continued, "After this shoot (which was about an hour from home) we drove back, me driving, mama and glam team. It starting raining like crazy and Forrest was screaming his head off the entire way to the point of crocodile tears and losing his voice from screaming."
Decker went on to say that as soon as they were off the highway, she and her mom switched seats so that she could sit in the back seat with her son and feed him, with her "boob out leaned awkwardly over the car seat to calm him down!"
"My point of this post is even though things seem glamorous and fabulous in photos, behind the scenes real sh*t happens," Decker's captioned continued. "On the way home I cried, I got stressed and anxiety, and I was just a mom trying to do my best just like we all are no matter the situation!"
Decker's fans were predictably grateful for her honesty, as one replied: "YES!! Pulled over on the [highway] in bumper to bumper traffic to calm my screaming infant. I didn't have my mom with me then, but if she were, she would've done the same for me. We've gotta do what we've gotta do."
Another agreed, saying: "Yes I've done this with all 3 of mine when they were babies. It is the most uncomfortable position but it was worth feeling broken in half to bring them comfort. With my 3rd baby I always pumped a couple oz before we went anywhere so I could pop a bottle in his mouth if I needed to on the [road]."
Decker and her husband Eric welcomed their third child on March 31 of this year, according to People. "Welcome to this world Forrest Bradley Decker! My heart is full!" Her husband shared on Instagram after the baby was born. "#Wolfpack completed with a 9lb lean, eating machine (& a Decker bucket head)! Mommy sure knows how to grow some babies!!"
In the time since, the mom of three hasn't been afraid to show what it takes to balance motherhood and life, posting photos of herself holding her baby while getting her hair and makeup done, as well as what a living room really looks like when you have multiple little kids in your home.
Decker has also opened up about breastfeeding before, like the time she posted a photo and captioned it "Is it possible for a baby to want to be on the boob 23 hours a day?" or when she posted a photo celebrating her 30th birthday while breastfeeding, and wrote:
Never did I imagine I would be celebrating my 30th birthday with my new born on the boob who wanted to feast at that very moment lol my family knows me way too well and threw me a "friends" intimate birthday dinner! So grateful for my family and friends and where I'm at in my life and will never take it for granted.
Other celebrities have been open about their breastfeeding challenges as well. The Daily Mail reported that Adele once mouthed "f*ck off" to a man who was passing judgment on women breastfeeding in public, and added that she took her struggle with feeding her son, Angelo, very personally. "I mean, I loved it, all I wanted to do was breastfeed, and then I couldn't, and then I felt like, 'If I was in the jungle now back in the day, my kid would be dead because my milk's gone.' It's not funny, that's how some of us think," she reportedly said, according to the Daily Mail.
Similarly, Kim Kardashian also said her struggle was with sibling jealousy, as North would drink out of a juice box in her bra to quell her envy over Saint's breastfeeding time, or Chrissy Teigen, who once said that breastfeeding for so many hours a day makes her "feel like a cow," (leave it to Teigen to always keep it #real).
Like Jessie James Decker said, the point is that breastfeeding is a difficult challenge as it is, and judging moms for how they get it done is seriously counterproductive. Every new parent's journey is decidedly their own, and however they deem it best to manage life, kids and yes, even breastfeeding, deserves more admiration for being the challenge that it is.