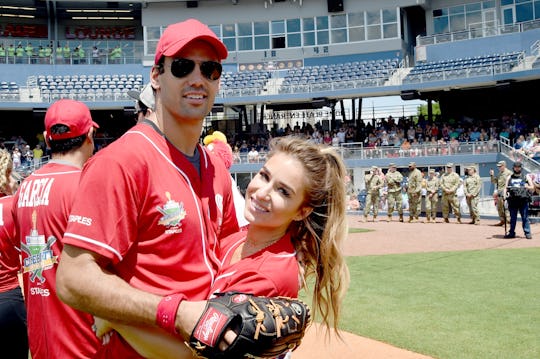 Rick Diamond/Getty Images Entertainment/Getty Images
Eric Decker Made A Big Decision That Allows Him To Spend More Time With His Wife & Kids
Jessie James Decker and her husband, Eric Decker, have the sweetest relationship. The country singer always seems so happily in love with her football player husband and it seems they'll be getting to spend a lot more time together. On Sunday, it was announced in a touching Instagram post that Jessie James Decker's husband Eric has retired from football to spend more time with his his wife and their kids.
Even before Jessie gave birth to the couple's third child this past March, it was clear that the both of them are so happy to be parents. Although the couple always seems super busy with their full-time jobs, raising their young children, and filming their E! reality show, they showed fans that it was possible to have it all. But, of course, priorities change, and Eric's announcement on Sunday demonstrates this.
After signing with the New England Patriots for a one-year deal at the beginning of August, according to ESPN, the wide-receiver announced that he would be retiring from football altogether just a few weeks later, according to USA Today.
"It has been my childhood dream and passion to play football," Eric wrote in a statement, posted to his Instagram account.
But, after spending nine years in the NFL and competing on teams like the New York Jets, Denver Broncos, and Tennessee Titans, according to ESPN, Eric wrote that he wanted to focus on a new chapter in his life — which is spending time with his family. "I'm looking forward to spending more time with my wife and kids," Eric wrote.
After saying that football will continue be a part of his life, though it's not clear in what capacity, Eric finished his statement on a positive note:
I want to give a special thank you to my family, friends, and fans for all of your support on this incredible journey. It's been an amazing chapter in my life. I look forward to the future and many adventures ahead!
This announcement might come as a surprise to fans of the couple, especially since, just a few months ago, Eric stated that he was ready to go all the way to a finish line with a team, according to ESPN. "At this point in my career, I want to go somewhere where I can compete for a Super Bowl and be in a good system and be with a quarterback that my skill set would be an addition to the team," Eric said.
But, things do change and Eric's big decision was clearly supported by his friends and fans of the couple. "I wish you the best for you and your family!!" one fan commented on the Instagram post.
"It's been an amazing and successful journey my friend!," another commenter added. "Good on you and god bless."
"Enjoy retirement, Deck!," the New York Jets, aka one of Eric's former teams, wrote in the comments section of the post.
Eric is going to be spending a lot of time with his three kids: 4-year-old daughter, Vivianne, 2-year-old son, Eric Jr., and the newest arrival, son Forrest, who was born in March, according to People. And it seems like that's exactly what he wants to be doing.
Earlier this month, Jessie told People that she and Eric balance out parenting tasks "50-50," which is something he loves doing. Jessie explained to People:
We are a team and do everything as a team. He's the most incredible father I've ever known. We truly enjoy being parents together. He makes coffee and breakfast and I make lunch and dinner. He will do early morning drop off at school and I will pick them up. We bathe them together, put their PJs on, and both tuck them in every night.
Although Eric may no longer be playing for an NFL team, it's clear that he loves being a team player at his home with his wife. And now that he has retired and will be spending more time with his family, he's pretty much a lock-in for the 2018 MVP of parenting.