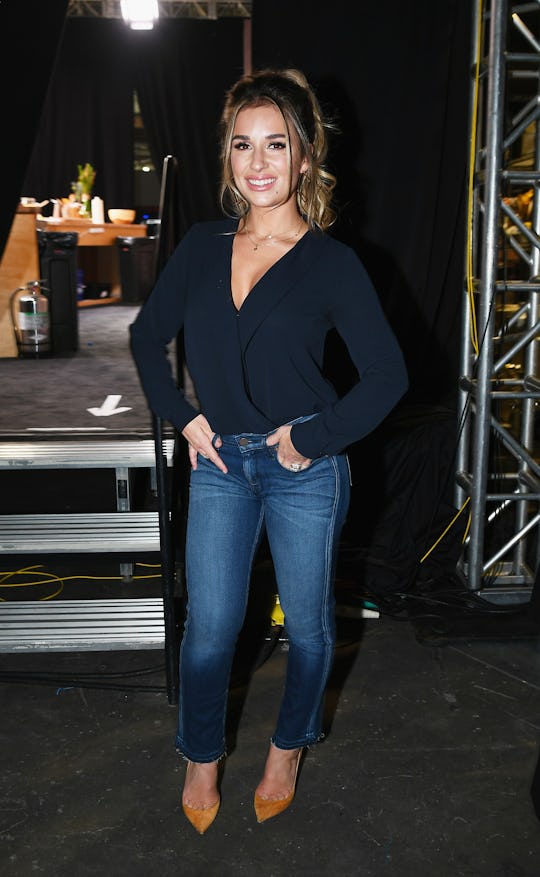 Dave Kotinsky/Getty Images Entertainment/Getty Images
Jessie James Decker's Story About Flying With Her 3 Kids Even Has Me Exhausted
As nice as it might be head home for the holidays, if you've got kids in tow, then chances are the experience will be at least somewhat stressful. Planning ahead as much as possible is a definite necessity — you don't want to be caught unprepared mid-flight — but honestly? Any parent whose traveled with kids knows that there's also a lot of luck involved, and that means that, sometimes, things can go sideways pretty quickly, even if you're a celebrity. For one, mom-of-three Jessie James Decker's vomit-filled Thanksgiving flight is pretty much a classic example of what every parent hopes won't happen when they're on a plane with their kids, but according to Us Weekly, the singer thankfully seemed to be totally able to laugh it off.
On Wednesday, the Kittenish designer shared an adorable photo on Instagram of her 4-year-old daughter, Vivianne, and 3-year-old son, Eric Jr., smiling for the camera with their arms around each other at the airport, but just in case anyone thought the trip went off without a hitch, Decker explained in the caption what really went down. She wrote that she took her three kids on a Southwest flight, where they "kept getting in trouble from the flight attendant" for having too many kids in the row at once, and where she struggled to keep her youngest, 7-month-old Forrest, sitting still, noting that he was "the squirmiest wormy because he wants to be cool like his big brother and sister."
All that seems like nothing though when you also take into account that Eric Jr. — whom the family has nicknamed Bubby — also happened to "puke all over his clothes" from getting motion sick. And just to make things worse, Decker wrote that she didn't actually have a change of clothes for her son, and that the only reason she even had any extra kid clothes at all was because Vivianne "insists on having a carry on" when she travels (aka probably the one time any parent is ever truly grateful they gave into their child's stubbornness).
Decker summed it all up by though explaining that, even with the puke, and the lack of clothes, and the squirmy baby, and the "pacis dropping, bottles rolling under seats, and people [rolling their] eyes," the point was that they all survived. And what's more, is that Decker didn't even seem to be all that stressed out: she wrote, "All n all wouldn't change a thing lol love these babies! Let the Thanksgiving week of gratefulness begin."
As glam and celebrity-perfect as Decker seems to be, the fact that she always seems more than willing to be honest with her fans about what her life as a mom of three young kids is really like is so impressive. Sure, she and her retired football player husband, Eric Decker, make a seriously good-looking couple, and their offspring are just as genetically blessed. But they also don't try to hide the fact that being in the spotlight doesn't necessarily mean parenting is any less of a struggle.
In September, for one, Decker took to Instagram Stories to address comments from fans who wanted to know why she "looked different" than normal, according to Yahoo. Her response? Uh, she has two young kids and an infant. Decker said,
I don't have time to take care of myself. I haven't had my hair colored in I don't even know how long, I'm like all brunette again. I'm pale. I can't seem to keep a tan, or a spray tan. And honestly, I just haven't been wearing as much makeup lately. Because what's the point?
Yet as much as it sounds like Decker was being hard on herself, the message was actually refreshingly honest: when you have your hands full as a busy mom, it's not always easy — or even worth it — to put any energy into looking made-up or glamorous, because you're usually way too exhausted. And though we seem to expect celeb moms (and pretty much all women in general) to "bounce back" as soon as possible after having a baby, the reality is that it's a totally unnecessary burden.
Of course, Decker does still somehow manage to look amazing despite it all, though that likely has at least something to do with the fact that she also has work obligations on her plate, and therefore probably at least gets some help from a glam squad to ensure she's prepped and ready for professional appearances. But Decker's latest post about her Thanksgiving flight is probably the one we should *really* be paying attention to.
As easy as it is to get caught up assuming that Decker always has her act together as a mom, and that she couldn't possibly understand what it's like for most moms-of-three who struggle with their broods, the point seems to be that, no matter what the circumstances, traveling with kids is always hard. Yet, if we can manage to laugh it off and realize that having a puke-covered kid is just sometimes what happens, then maybe those parenting struggles can at least seem easier to overcome.
This first-time mom wants to have a home birth, but is she ready? Watch how a doula supports a military mom who's determined to have a home birth in Episode One of Romper's Doula Diaries, Season Two, below. Visit Bustle Digital Group's YouTube page for the next three episodes, launching every Monday starting November 26.