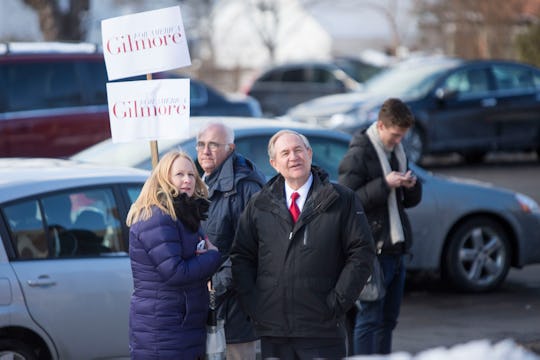 Scott Eisen/Getty Images News
Jim Gilmore Didn't Win New Hampshire, But He Obviously Had The Most Fun
Jim Gilmore. What can you say about Jim Gilmore? Welp, he's running for the Republican nomination for president and he's the former governor of Virginia. He's had a really remarkable career and served as both Virginia's attorney general and chairman of the Republican National Committee, but it hasn't helped him attract many voters to his campaign. But that's just fine with good ole Gilmore. Gilmore didn't win New Hampshire, but Twitter made it clear he had the most fun.
Gilmore only garnered a measly 12 votes in the Iowa caucuses and has been excluded from every main stage GOP debate. But, the persistent politician has won plenty of fans across social media. They love his fighting spirit. They love that he refuses to concede that he has no chance against other, better funded campaigns. But, no matter, Gilmore keeps showing up and shaking hands and waiting to get destroyed at the polls. The best part about being a Gilmore supporter, according to the amazing images flying across social media, is the intimate, personal attention the under-the-radar candidate can lavish on his handful of fans.
Here are just a few of the most amazing tweets about Gilmore at the New Hampshire primary that just might be the very best thing about the whole night.
Is it possible losing the New Hampshire primary has made Gilmore the most likable Republican politician on social media? Possibly. #Gilmentum.