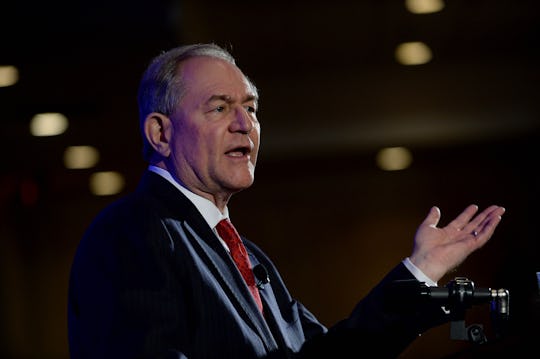 Darren McCollester/Getty Images News
Which GOP Candidate Will Drop Out Next? Jim Gilmore Says He's #StillStanding
It was only a matter of time before presidential hopefuls began exiting the race en masse. During the Iowa caucus Monday night, former Maryland Gov. Martin O'Malley and former Arkansas Gov. Mike Huckabee both dropped out. And on Wednesday, Kentucky Sen. Rand Paul and former Pennsylvania Sen. Rick Santorum ended their presidential runs. Just which GOP candidate will drop out next is still unclear, but there's a long list of possibilities, at least on the Republican side.
"We are going to spend a couple of days just thinking and praying, and figure out what we are going to do, and we will make a decision," Santorum told The Des Moines Register on the evening of the Iowa caucuses. So it's not too surprising that an aide told CNN that Santorum will appear on Fox News Wednesday night to make two important announcements: that he is dropping out and what remaining Republican he will endorse. Santorum came in 11th place on Monday night and received less than 1 percent of the vote, according to USA Today.
While Santorum's 2012 bid went way more successfully, this time around Evangelicals largely backed Texas Sen. Ted Cruz. Since Cruz seems to have a strong hold on that demographic and Trump is (strangely enough) one of the top contenders on economic issues, there was no place in this race for Santorum.
But who will be the next to call it quits? With two strong Democratic contenders, it is safe to assume neither former Secretary of State Hillary Clinton or Vermont Sen. Bernie Sanders will drop out. But, for Republicans, the list of who could leave next is a long one.
It won't be earth-shattering, but former Virginia Gov. Jim Gilmore could be next to end his presidential bid. Not only has he gotten close to nil television time, Gilmore received zero percent of the Iowa vote, Politico reported. Specifically, Gilmore only received between 10 or 12 votes, which Twitter got a serious kick out of during the caucus.
But, despite all of that, Gilmore must know something the public doesn't, because he apparently still plans to chug along in the single digits, according to a tweet he posted Wednesday:
The Huffington Post reported that, since 1972, no Republican or Democrat who placed fourth or worse in the Iowa caucus went on to clinch the presidential nomination.
Given the Huffington Post's research, New Jersey Gov. Chris Christie — who only received 1.8 percent of the vote in Iowa, according to Politico — will probably be the next major Republican to bow out of the 2016 elections. And Ohio Gov. John Kasich, who didn't do much better than Christie, with 1.9 percent of Iowans' support, will most likely be leaving soon after. So, expect a ton of press conferences to take place just prior to or just after the New Hampshire primary next week.
Nothing is for sure, though. Characters like Gilmore and Trump have proven that anything could happen in this year's presidential race.