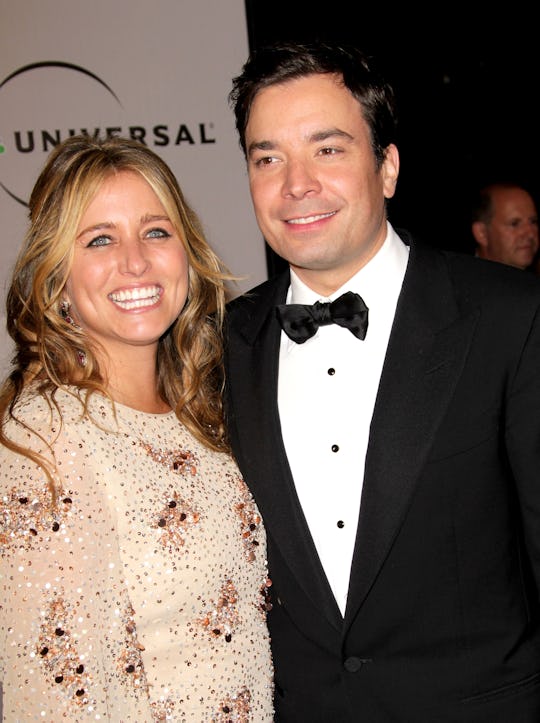 Frederick M. Brown/Getty Images Entertainment/Getty Images
Just Like Every Parent, Jimmy Fallon Watches A Whole Lot Of 'PAW Patrol' With His Kids
Jimmy Fallon has always struck me as one of those guys who is a dad waiting to happen. Long before he welcomed his two daughters, he just seemed like a dad. Maybe it was the smile or the way he really sells it when he's singing goofy songs, but he just has that dad vibe. And now that he is an actual dad for real, he's all in, my friends. How do I know? Well, Jimmy Fallon watches a lot of PAW Patrol with his kids. Like, a whole lot. Which all parents of young kids know is the litmus test for an invested dad.
The Tonight Show host has two daughters, 4-year-old Winnie and 3-year-old Fanny, with wife Nancy Juvonen. And like every other kid their age on the planet, it seems, they have very specific tastes when it comes to their television watching experience. So much so that they're keeping their father from catching up on all of his own Netflix watching these days.
Fallon told People that he really likes to unwind by watching any one of the splendid programs on Netflix or Hulu or YouTube Red. But the reality is, he gets to watch one show only: PAW Patrol.
That's right, Fallon spends a whole lot of time watching the adventures of Chase, Ryder, Rubble, Zuma, and the gang solve problems that honestly, seem a little beyond the capabilities of a young boy and his gang of puppy lackies. As the Saturday Night Live alum told People, "I really can't even tell you what's going on with anything in the world, but I can give you every single episode of PAW Patrol and who's in it and what the plot is." He went on to qualify that he's watching the show as a supportive dad, according to People:
They're obsessed right now with PAW Patrol. Like obsessed. I can't even believe how obsessed they are. We saw it live in the theater at Madison Square Garden and they flipped out.
And if you're wondering if Fallon is exaggerating... here is an Instagram post he shared on March 23 with the caption, "When your kids idols become yours. #PawPatrolLive @ The Garden #Skye #Chase"
The things we do for our kids, right? Admittedly, his kids looked pretty cute when he and his wife took them to Washington, D.C. for the March For Our Lives on March 24. In fact, they look like they just had the time of their lives watching PAW Patrol.
Their dad probably didn't have the worst night either, despite his good-natured protestations. He and fellow dad Tyler Perry commiserated about watching PAW Patrol with their kids back in October 2017 on The Tonight Show. The two dads even sang the theme song to prove they are most definitely spending a whole lot of time watching the show with their kids.
By the time February hit, Fallon was singing a different tune about PAW Patrol. Literally. He and his frequent collaborator (also a fellow dad) Justin Timberlake had a "songversation" on The Tonight Show and of course, the subject of PAW Patrol came up. And the pups seem to have brought Fallon over to their side.
When Timberlake sang that he had been "mostly watching PAW Patrol," Fallon asked him who his favorite character might be. Timberlake picked Chase because everyone picks Chase, he's such a glory hound. Then the two sang Chase's praise for wearing a cop outfit.
I'm so happy to see that Jimmy Fallon is able to slide so comfortably into his dad persona and gripe happily about PAW Patrol like the rest of the world. I feel like he's been waiting years to get here. Welcome.