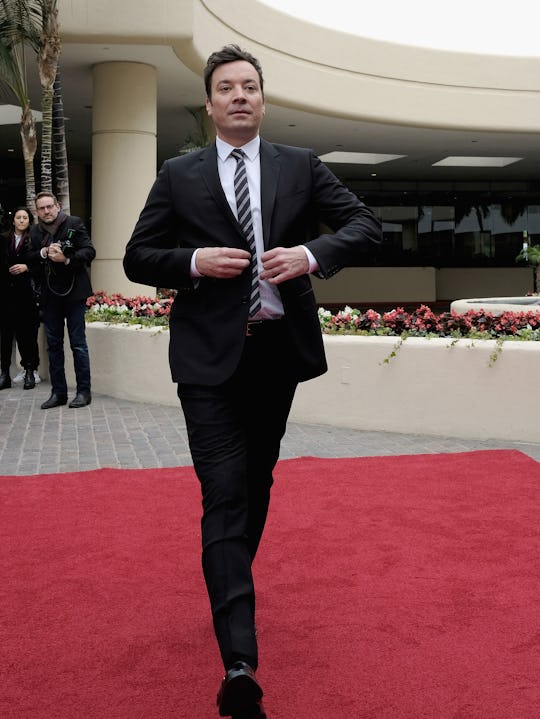 Alberto E. Rodriguez/Getty Images Entertainment/Getty Images
Jimmy Fallon's 2017 Globes Monologue Was On Brand
It's the most wonderful time of the year — award season. Sunday's 2017 Golden Globes were the perfect way to start the season off on the right foot. And that it did. In addition to the diversity of the nominees, the crazy honors given to both television and film stars, Jimmy Fallon's 2017 Golden Globes monologue hit just the right spot. After opening the show with a celebrity-packed La La Land spoof and musical number, it was hard to imagine what else the former Saturday Night Live star had in store for the audience.
The monologue was right on brand for Fallon — cute pop culture references, a little bit of a geek-out over all the celebs in the audience, and some solid jokes (but not too many too serious jokes, since the comedian and late night host tends to not pick sides).
In fact, Fallon told Esquire earlier in the week that he was fine with his "Mr. Nice Guy Schtick." He said, "If I hit somebody, it's a very subtle hit, and everyone's in on the joke. I want to make sure everyone's laughing and having a good time." Fallon added, "And I'm hopefully going to book the people in this crowd the next week, so I'll be edgy, but it's all in good fun, and I know how far I can take it."
Hey, whatever works, right?
Fallon prefaced his monologue with a humorous performance, accompanied by a few famous friends, a white Ford Bronco (hello, American Crime Story shout-out); Millie Bobby Brown of Stranger Things rapping; Ryan Reynolds spitting a mint into Fallon's mouth (gross); and Fallon's pal Justin Timberlake (with whom he shared a stirring slow-dance).
The biggest (and arguably most awkward) moment of Fallon's speech, however, came before the speech had even begun when, after an apparent teleprompter breakdown, Fallon joked, "I can do some impressions... what do we do here? I can think of something."
After that, it was business as usual: The monologue kicked off with a few random, good jokes about previous award show host extraordinaire Chris Rock, Amazon ("Jeff Bezos ... arrived yesterday, but no one was around to sign for him," Fallon joked, referring to the retail company's CEO), and Game of Thrones, and proceeded to follow the standard award show monologue format of making sure almost every big name in the crowd got a little dig thrown their way.
Fallon did get a little close to crossing his Mr. Nice Guy line with a slew of Donald Trump references (which didn't quite hit... is America just exhausted?) and one joke aimed at the current political climate, teasing, "[The Golden Globes] one of the few places left where America honors the popular vote."
Overall, Fallon's monologue stuck to his goal of staying "fun, and friendly, and joyous, and cool," as he told Us Weekly earlier this week. He predicted that the show, and his opening bit would put everyone "in a good mood."
Fallon's a lot of things, but a Debbie Downer he is not. If we had to decide, we'd wager that that's exactly what he did. It's what Fallon is best at, after all.