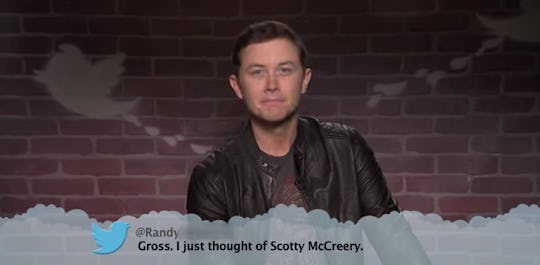 Jimmy Kimmel's Country "Mean Tweets" Video Slams Carrie Underwood, Tim McGraw, & More In The Most Ridiculous Ways — VIDEO
Jimmy Kimmel has been killing it this week. Not only did the host of late night's Jimmy Kimmel LIVE! win big Internet points for the release of his latest Halloween Candy YouTube Challenge, but he pranksters also cheered him on for a video released Wednesday of Kimmel punking a writer's roommate in the spookiest of ways. And, now, we can add yet another viral video to the fantastic weekly round-up: Kimmel's new "Mean Tweets" video, starring the Country Music Awards' finest talent like Carrie Underwood and Tim McGraw. 
Now, of course, the latest "Mean Tweets" video doesn't necessarily offer anything new for those who have seen other iterations in the past, but that doesn't mean the country version doesn't rock. In fact, it seems country fans (or, rather, non-fans, based on the tweets) seem to be one of the more creative batch of social media insulters. Need proof? Here are the five most ridiculous insults in Kimmel's latest Mean Tweets video (and be sure to check out the video below, because there are so many more worth hearing). 
"Marijuana works wonders. Just look at Willie Nelson. Bastard is still alive and won't die."
If only Ohio felt the same way. 
"Tim McGraw's new song is more embarrassing than your mom finding your penis pump."
Says one user, from what sounds like experience. 
"Rascal Flatts please do us all a favor and stop making music. You are so awful. #sobad #spareus #soundsofdeath"
I could leave the insult, but can I keep the #soundsofdeath hashtag?
"If @bretteldredge ever gets arrested, it'll be because he's doing something dumb in Walmart."
Which Eldredge hilariously follows up with a, "Fair, fair, fair statement."
"I would rather listen to the sound of my grandpa eating a nectarine for 3:30 than listen to a Florida Georgia Line song."
Like I said, creative! Now watch the full version below! 
Image: ABC