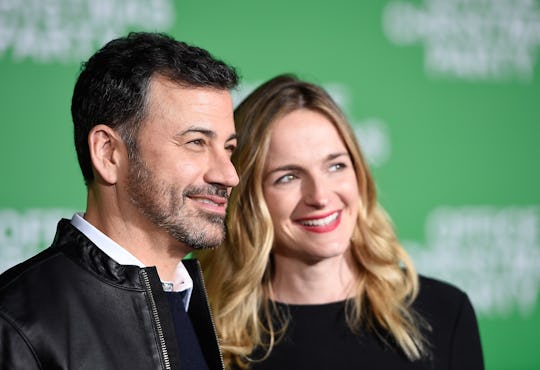 Matt Winkelmeyer/Getty Images Entertainment/Getty Images
Jimmy Kimmel's Wife Perfectly Claps Back At Trolls Amid Health Care Debate
In yet another pathetic round of repeal and replace, Republicans have somehow managed to dig up an even worse version of Trumpcare called the Graham-Cassidy bill. Jimmy Kimmel, who (among other politicians and celebrities) has repeatedly offered his voice of reason on the real-life implications of such legislation. The talk show host hasn't been shy in passionately condemning it and neither has his wife, Molly McNearney. In fact, on Monday, Jimmy Kimmel's wife shut down trolls who attacked her for opposing the new health care bill.
McNearney took to Twitter to address trolls who have consistently slammed her husband's stance on the repeal-and-replace efforts of Republicans. "My baby has a hole in his heart. My dad lives in Puerto Rico," she tweeted on Monday. "If you think a nasty tweet will shake me, you are mistaken. Beat it, trolls."
Basically, this mama has already been through hell and back alongside her sweet baby boy, who was born with a rare congenital heart defect. So you can bet no amount of online bashing can touch her.
Back in May, her husband announced the birth of their second child, a baby boy named William. Kimmel revealed that little Billy's arrival came with some serious and unexpected complications. A few hours after their son's birth on April 21, a nurse discovered he had a heart murmur and noticed his skin was a purple-ish color. As it turned out, the baby wasn't getting enough oxygen — thanks to a rare birth defect called tetralogy of Fallot with pulmonary atresia — and was rushed into surgery, according to People.
Kimmel said back in May, according to The Los Angeles Times, during a tearful monologue:
If your baby is going to die and it doesn't have to, it shouldn't matter how much money you make. I think that's something, whether you're a Republican or a Democrat or something else, we all agree on that. Whatever you believe, whoever you support, we need to make sure the people who are supposed to represent us understand this very clearly. Let's stop with the nonsense. This isn't football. There are no teams. We are the team. Don't let partisan squabbles divide us on something every decent person wants. We need to take care of each other.
Last week, Kimmel again addressed health care repeal efforts, specifically targeting the controversial Graham-Cassidy bill in another passionate monologue. He highlighted one of the key issues the legislation would affect, getting right to the heart of what passing it into law would mean for children like his son, Billy.
"Healthcare is complicated, it's boring — I don't want to talk about it — the details are confusing, and that's what these guys are relying on," Kimmel said last week in his moving monologue. "We are all just looking at our Instagram accounts liking things, when they are voting on whether people can afford to keep their children alive or not."
Kimmel acknowledged that his family is extremely lucky to have health insurance, and that they'll never have to worry about paying for Billy's heart surgeries and care. But for so many other families, this isn't the case. And the Graham-Cassidy bill could have catastrophic consequences.
"We can't let them do this to our children, our senior citizens, our veterans, or to any of us," Kimmel added.
So how would the Graham-Cassidy Bill affect children like Billy? Well, for babies born prematurely or with serious health complications at birth, it wouldn't be pretty. That's because the bill, as Forbes reported, would end federal protections on pre-existing conditions, lifetime caps, and essential benefits — meaning newborns needing surgeries, time in the NICU, or more could potentially meet their lifetime caps before they even go home from the hospital. And because they already met their lifetime cap and they now have a pre-existing condition, that in turn would mean they're essentially uninsurable.
The Graham-Cassidy bill — introduced by Sens. Bill Cassidy and Lindsey Graham — would also reportedly slash federal funds on health care while forcing states to pay up front if they want to keep the Affordable Care Act as it is in their state. And it would continue to end Medicaid expansion as prior drafts have suggested. Plus, it would cut coverage for low income children, seniors and people with disabilities by 7 percent by 2026 with a "per capita cap."
The looming Sept. 30 vote in the Senate will decide whether the bill moves forward. For the sake of children like McNearney and Kimmel's son — as well as low-income groups, seniors, women, children, people with pre-existing conditions — let's hope lawmakers see just how harmful the Graham-Cassidy bill is and truly consider what's at stake.
Watch Romper's new video series, Romper's Doula Diaries:
Check out the entire Romper's Doula Diaries series and other videos on Facebook and the Bustle app across Apple TV, Roku, and Amazon Fire TV.