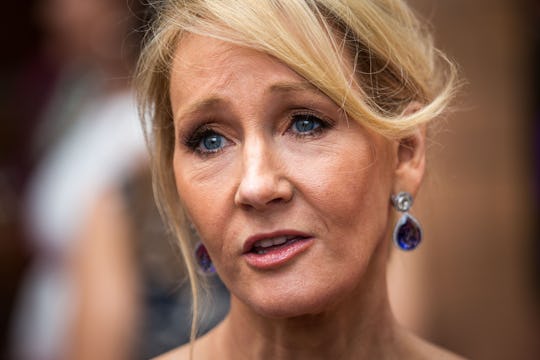 Rob Stothard/Getty Images Entertainment/Getty Images
J.K. Rowling's Twitter Game Is Riddikulus
Imagine if Hermione Grainger had the ability to use social media, a bit more sass, heaps of courage, and a sardonic, wry wit that cuts through intolerant bullies like a Ginsu knife. That is J.K. Rowling. The creator of the iconic Harry Potter series (remember those books that got actual children interested in reading again?) has made it perfectly clear that she has no time for nonsense, and we love her for it. Rowling schooled Piers Morgan in a recent Twitter feud, and it was honestly even better than I'm making it sound.
It all started when British television personality (and noted President Trump apologist) Morgan was a guest on Real Time with Bill Maher on Friday. Despite the fact that Morgan, who won Celebrity Apprentice under Trump's tutelage and even came back as a guest on the show, continues to say he would not necessarily have voted for Trump himself, he continues to defend Trump's actions. And the panel on Real Time wasn't having any of it; as Morgan attempted to explain that there was "no Muslim ban", Australian comedian Jim Jefferies had enough.
"Oh f**k off!" he shouted at Morgan. "You just like that you won Celebrity Apprentice and you have a famous friend, mate."
And J.K. Rowling absolutely loved it.
Morgan, much like his supremely thin-skinned friend President Trump, went on to throw a little Twitter tantrum and claim that he has never read a word of any Harry Potter book as though that's something to be proud of.
Rowling fired back with this brilliant response, clearly meant to goad Morgan.
And it worked. Morgan claimed that "everything he said was factual." And he used all caps, so he is pretty serious.
Rowling, being Rowling, wasn't letting him away with anything, despite the caps.
Which had Morgan resorting to a little name-calling (and why do I naturally assume that he is somewhere in the dark, purple-faced with rage as he types out his tweets?)
Rowling's response was beautifully composes, as though she is sitting at a laptop in a light-filled apartment, wearing white linen and a sardonic grin, tweeting happily with a coffee at her elbow.
She even went on to gently remind Morgan of the dangers of aligning oneself to the "biggest bully in school";
Oddly, Morgan's claim that he has never read a word of Harry Potter makes no sense since he has quoted from it in his writing in The Daily Mail; he once compared cyclist Lance Armstrong to Lord Voldemort.
The dark Lord was an intelligent, ruthless, determined, lying, self-obsessed monster who slayed everyone who got in his way, and whose overbearing arrogance eventually led to his downfall.
Eventually, Morgan backed down and moved on to small-minded Twitter fueds with other people. Because while Rowling might be a perfect combination of Hermione Grainger, Harry Potter and (my personal favorite) Molly Weasley, Morgan is no Dark Lord. I don't even think he gets to be Draco Malfoy... maybe Crabbe or Goyle. Maybe.