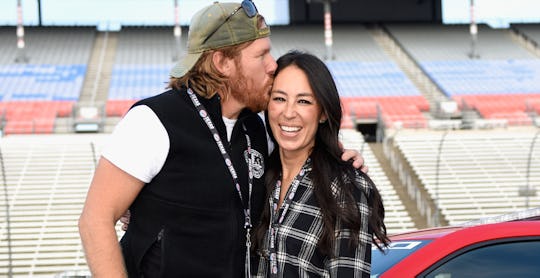 Jared C. Tilton/Getty Images Sport/Getty Images
Joanna Gaines' Pregnancy Updates Show The Expectant Mom Never Stops Going
It's been three months since the stars of HGTV's Fixer Upper announced that they were expecting their fifth child, and fans are dying for some more updates on Joanna Gaines' pregnancy. But besides taking care of four kids and baking yet another one, she's still got a lot on her plate, and she's been doing an impressive job of focusing on both work and her family (way to make the rest of us look bad). When a woman is pregnant, that's suddenly all anyone wants to talk to her about, but Gaines isn't a one-dimensional woman, and she's still out there promoting all of her business ventures, while still managing to share some juicy tidbits every now and then.
While Fixer Upper has officially wrapped production, the couple still runs both a physical and web-based Magnolia Market home and lifestyle store. For fans on a budget, they also have a home collection at Target called Hearth & Hand With Magnolia. They also opened a restaurant called Magnolia Table in February, TODAY reported, and just a couple of weeks ago, Gaines also released a cookbook called Magnolia Table: A Collection of Recipes for Gathering. Wait, there's more! The couple runs two luxury rental properties under the name Magnolia Stay, and they put out a quarterly magazine called Magnolia Journal. Basically, if you can put the word Magnolia before it, the Gaines have done it, and they're making money off of it.
Unsurprisingly, they've found a way to tie it all together, and that includes the baby to be. When Gaines woke up with pregnancy cravings back in February, she took the opportunity to not only update her fans on her condition, but also to promote her cookbook, posting a gorgeous photo of chocolate chip cookies to Instagram and explaining in the caption that she made them because she was out of what she really wanted: Fruity Pebbles, a pimento cheese sandwich, chicken spaghetti, deviled eggs, and ranch dressing.
Those cravings have evolved a bit since then, though, and in the new issue of People, Gaines said that in addition to Fruity Pebbles with milk, she'll also use them to replace the Rice Krispies in the eponymous treats when she's not eating fast food.
I even went to four different fast-food places to get four of my favorite things. Fries from one place, chicken tenders from another, soft drink from another place because I love their ice and custard from another. I have no regrets. It was a good night.
The couple recently appeared on TODAY to reveal that they're expecting a boy, although they haven't agreed on a name yet. "I say he got the boy, so I get to pick the name," the super mom said. She also tied in that cookbook again, noting that since she's expecting, "I just love the idea of eating, cooking, so this was the perfect time for it." In their People cover story, the perfect timing of their surprise pregnancy came up again. "We had a lot on our plates, and at some point you have to call those shots when you feel like you need a break," she saId of the decision to walk away from Fixer Upper. "We had no plan like, 'Let's have baby No. 5.' It was a total surprise. But when we found out, it solidified that it was the right decision to leave when we did."
And yes, they really are still focusing on that family, as well. Last week, Gaines told Life & Style, "The best thing about all of this is the excitement that my kids have shown for their new baby brother," and shared that the family also recently welcomed a kitten and a puppy. And Chip told Country Living earlier this week that his designer wife "has had a ball working on the nursery," picking out furniture and deciding how to decorate the walls. "I have no doubt that when Jo gets finished with it, it'll be the most beautiful room in the whole house." Maybe once she's had the baby, she can play fair and let somebody else use her Time Turner?