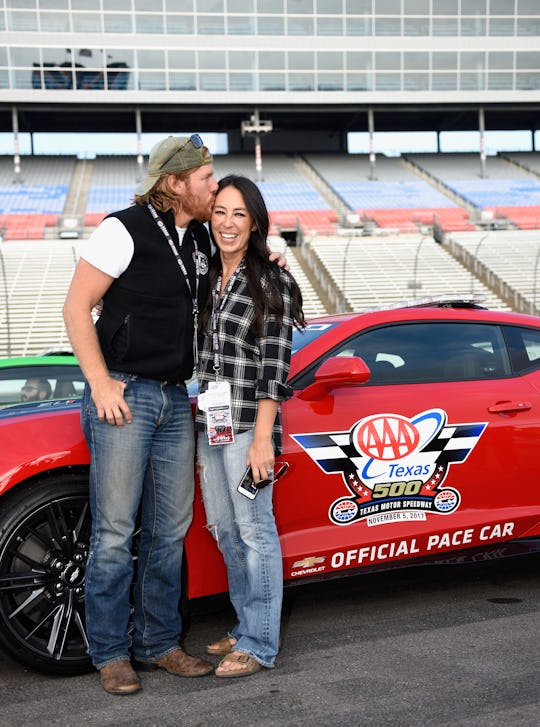 Jared C. Tilton/Getty Images Sport/Getty Images
Joanna Gaines' Daughter Is Already Becoming A Dynamite Businesswoman, Just Like Her Mom
All parents know the tricky challenge of finding fun, cheap activities for their kids to do during those summer months when they're home from school. Sure, you can just take them to the pool or turn on the sprinklers outside, but that won't do the trick for three whole months. So you can imagine how excited any parent would be to learn that their kid had not only found a way to entertain themselves over the summer, but that they've discovered an activity that earns them a little cash in the process. Indeed, Joanna Gaines revealed how exactly her daughter is keeping busy this summer and involves a super savvy business plan.
Taking to Instagram on Wednesday, Joanna told fans how her daughter, 11-year-old Ella, is already learning how to earn a couple dollars. OK, OK, so maybe young Ella just wanted a fun summer job and something new to do, but her whole plan is just so darn adorable. "Her new summer business is selling baked goods at the office when she goes to work with me," Joanna shared on Instagram.
It sounds like young Ella is pretty wise already. After all, what adult can resist a sweet treat at the office, much less when that sweet treat is being sold by an adorable little girl? Answer: No one. I think it's safe to predict that Ella is going to make a lot of money this summer.
Because she's Chip and Joanna Gaines' daughter, the treats Ella's selling are obviously both delicious-sounding and packaged adorably. According to Joanna's post, Ella stayed up late on Wednesday night to make "Aunt Opal's banana pudding and the chocolate chip cookies" from her mom's cookbook. It sure sounds like young Ella is well on her way to becoming a dynamite businesswoman, just like her mom.
Although the Gaines family may be off the air for now — the final season of their HGTV hit, Fixer Upper came to an end in early April — that doesn't mean that they're is any less busy now.
In case you missed it, Chip and Joanna announced that they were expecting their fifth child — a boy — sometime this summer, according to Country Living. And as they're stepping away from their time on the air, that doesn't mean they aren't continuing to work hard and set stellar examples for their kids (makes total sense that Ella is already working on her business skills, doesn't it?).
In addition to being parents to 13-year-old Drake, 9-year-old Duke, 8-year-old Emmie Kay, and of course, Ella, the two also own quite a few businesses together, according to People. There's Magnolia Market, a Magnolia Journal magazine, their new Magnolia Table restaurant, a Magnolia Home decor collection at Target, and plenty more business ventures that their kids are certainly learning a lot about.
In fact, baking isn't the only activity that the Gaines kids have gotten in on when it comes to their parents' ventures. Both daughters, Ella and Emmie Kay, have been spotted by their mom via Instagram working in the family's garden plenty of times, for example.
It's sweet to hear that Chip and Joanna's oldest daughter has found a way to keep busy during the summer and make money by doing something her mom has taught her. Hopefully Ella's summer business will go well and she'll learn a lot in the process. And hopefully Joanna will keep her fans updated on how it's all going. Because when your 11-year-old takes the initiative to start her own business, it's totally OK (and welcome!) to brag about it on Instagram.