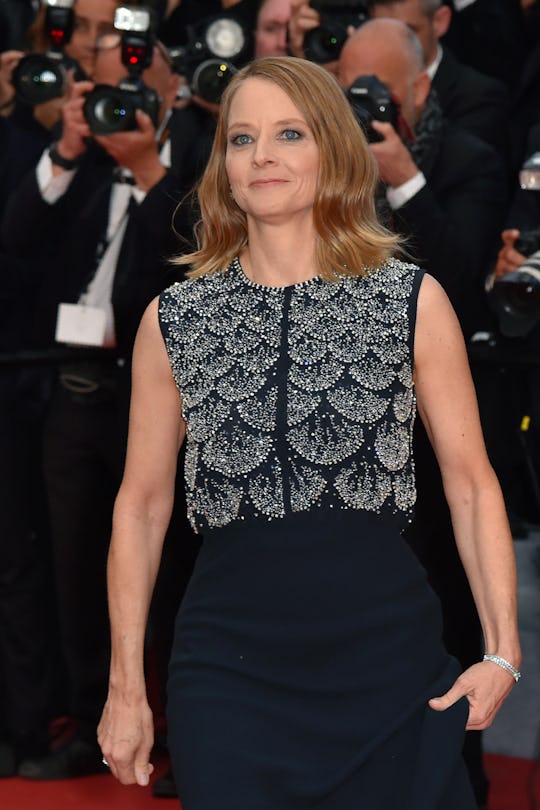 LOIC VENANCE/AFP/Getty Images
Jodie Foster's Comments About Rape As A Motivator In Movies Are So Important
Actor, director and all-around legend Jodie Foster has a history of being outspoken. When Hollywood wanted her to define her sexual orientation she was all, mind your own business. She has been a staunch advocate of equal pay for women in Hollywood, decried the lack of female filmmakers, and stayed friends with the mightily unpopular Mel Gibson in the face of controversy. And now, she has taken on the glorification of rape culture. Foster's recent comments about using rape as a motivator in movies are spot on and an important reminder to writers who need a lesson in how to tell stories about women.
Foster, in Cannes this week promoting her new movie Money Monster (starring Julia Roberts and George Clooney), was speaking at a Variety and Kering's Women in Motion event when the subject of using rape as a motivational tool for female characters came up.
Foster voiced her frustration with male writers who "go to rape" far too often when trying to tell the story of a woman's struggles. "'I wonder why she was a box of tears?'" asks Foster, speaking as a male writer. "'Oh, she was raped.'"
Apparently, writers rely pretty heavily on the rape plot device. If a woman is having trouble with her boss or struggling with a superior, Foster explained, "Well, it was because she was raped and you're going to find that out in the end."
She went on to conclude:
It was ridiculous, it was every single movie I saw. If you really got to what was the overriding motivation that that woman that you found out at the end, it was always rape because for some reason men saw that as this incredibly dramatic thing. "Well that's easy! I can just pluck that one out of the sky and apply it to her."
One of the issues male writers seem to have, according to Foster, is trying to figure out the "complex merging" with a female character. "They were unable to put themselves in her shoes and her body and say, 'She was competitive with her mother'… They were unable to make that transition."
She certainly has a point. Let's think about one of the most popular shows on television right now. Game of Thrones on HBO. As my fellow Romper writers can tell you, I am beyond a huge fan of the show. But let's face it, the only way the writers seem to be able to further any female plots is through rape. Whether one woman is being raped by her new husband, another is being raped by her lover/brother, then another is being causally threatened with rape... I swear, if the threat of rape wasn't ever present on the show, the women would have no story to speak of at all.
Then again, Game of Thrones creators David Benioff and D.B. Weiss were responsive to critics who called foul over the rape scenes and made some changes to Season 6 of the show, so hopefully they will find other ways to develop female plots in other shows and films too.
We need women like Jodie Foster making movies. Flinty, unflinchingly honest, intelligent women who aren't afraid to tell the truth. We need women like her to tell stories about complicated women like us, who can think of a million other motivators other than rape that compel us to do all of the things we do.