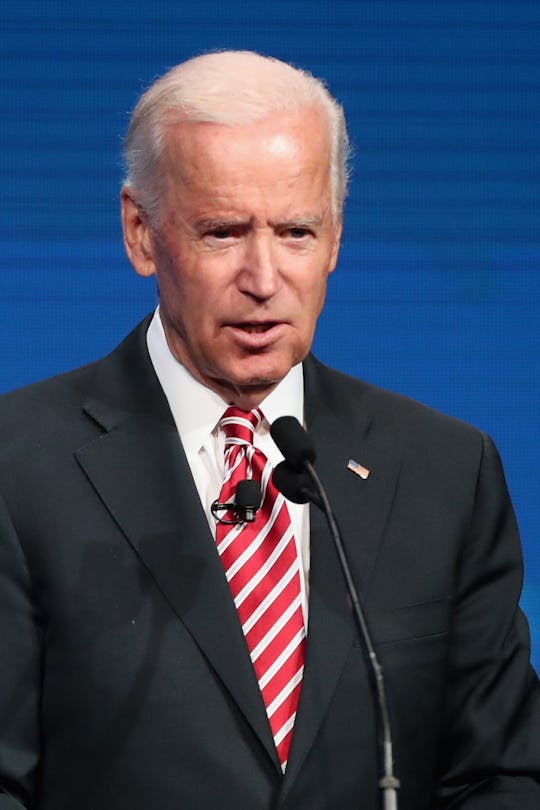 Frederick M. Brown/Getty Images Entertainment/Getty Images
Joe Biden Finally Gets His Own Ice Cream
I'll take two scoops of Joe Biden, please. It's not like I haven't already said it a million times in my own head. Every time he's genuine or self-effacing or just plain adorable, I'm all in. But now, if I feel like visiting Cornell, I can actually order two scoops of the former veep. Because Joe Biden got a new ice cream named after him. And the love affair continues.
Biden has never made his deep, abiding love for frozen treats a secret; he has been known to flat out just say, "My name is Joe Biden, and I love ice cream. You all think I'm kidding — I'm not. I eat more ice cream than the three other people you'd like to be with, all at once." Biden's loud and proud love of ice cream became a meme to believe in throughout 2016, matched only by his BFF status with former President Barack Obama. Since, sadly, we can't bring back the old "Joe and Barack" friendship to the White House (wish that we could), Cornell Dairy out of Cornell University is bringing us the next best thing; a Joe Biden-flavored ice cream. At first I thought the ice cream might taste like integrity and good-natured pats on the back, but I was wrong. According to The Cornell Sun, Biden really loves a good, old-fashioned chocolate chip (of course he does), and so that's what Cornell Dairy created for him to honor him as the convocation speaker in late May at Cornell University. A vanilla-based ice cream loaded with chocolate chips. Which is miles better than one of those honorary degrees, right?
Deanna Simons, academic coordinator of Cornell Dairy, said that she was a "huge fan" of Biden but didn't realize Biden plus ice cream equals love forever until it was pointed out to her by student Molly Mandel.
There's these pictures of him eating all kinds of ice cream. I didn't even know how to figure out what his favorite ice cream is.
Mandel and Simons decided it was high time Biden got his own flavor. And so, 30 three gallon tubs of ice cream were created. The internet got wind of a new Joe Biden ice cream and melted all over the place.
Joe Biden's ice cream has not officially been named yet; Cornell University Convocation Committee Chair Matthew Baumel narrowed the list of 150 possible names down to the final five: Biden's Chocolate Bites; Bits n' Biden; Big Red, White & Biden; Not Your Average Joe's Chocolate Chip; and Uncle Joe's Chocolate Chip. Biden's reps will get the chance to clear the final name before the first official scoop. Baumel noted:
We don't know why [Biden] loves ice cream so much, but there's always been social media posts about ice cream and him, so we thought this would be a unique way for Cornell to welcome him.
I can't wait to see Biden's reaction to his own ice cream... I'm holding out hope for a slo-mo run to the cone of his destiny.