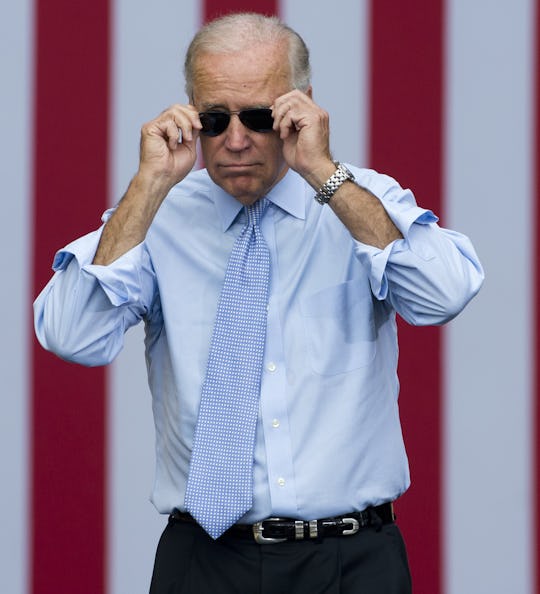 SAUL LOEB/AFP/Getty Images
Joe Biden Says He Won't Run For President In 2020 After All, So, Just Kidding?
Memes that proliferated online shortly after Donald Trump unexpectedly secured the presidency last month portrayed a fictional caricature of a mischievous Joe Biden earnestly planning pranks to play on the president-elect before he and President Obama vacated the White House. And earlier this week, the real-life vice president indicated that, perhaps, he wouldn't be gone for long, and was maybe even considering another bid for the nation's top job. But just as the political rumor mill churned to a crescendo after those seemingly off-the-cuff comments to reporters, Joe Biden said he won't run for president in 2020 after all, during an interview with Stephen Colbert — well, probably not, at least. Although the self-described "great respecter of fate" told the comedy show host that he'll "never say never."
Uncle Joe himself initiated the hoopla on Monday, when, as he was leaving a Senate session, a CNN reporter "jokingly" asked him about his plans for the next election cycle. "Yeah, I am," Biden responded, when asked if he was serious about running for office, according to the outlet. "I'm going to run in 2020." And he responded to the laughing reporter's incredulity with some of his own — asked what office he was planning on running for, Biden was blunt: "For president!" he said, in a tone that could be merely playful, but in front of people not about to let a tease of weight like that slide. "And also, you know so, what the hell, man, anyway?" And soon after: "I'm not committing not to run. I'm not committing to anything."
But by the time Tuesday's appearance on The Late Show rolled around, the veep was ready to be more direct about his intentions — sort of. "Well, look," he told a hopeful-seeming Colbert. "I can't see the circumstance in which I'd run, but what I've learned a long, long, time ago, Stephen, is to never say never. You don't know what's gonna happen."
In the interview, Biden — a 36-year Senate veteran who made unsuccessful primary runs in both 1988 and 2008 — also reflected on his much-hyped decision not to run in 2015. It was a public announcement he made in October 2015, amid rampant, intense, months-long speculation, and shortly after the death of his eldest son, Beau Biden, who died of brain cancer at the age of 46.
"What I regret is the circumstance that led me not to be able to run," he said. "I don't regret the actual decision. The decision was the right [one] for me to have made."
As evidenced by the heartwarming sendoff Biden's Senate colleagues — one that Washington Post politics writer Amber Phillips called "one of the most authentic, moving and memorable cross-aisle tributes I've seen in years" — had for him Wednesday, it seems that everybody in Washington loves Joe Biden. What could be holding him back from making yet another run, ultimately, is his age. At 70, Donald Trump is poised to become the oldest person ever sworn into the presidency; Biden, by contrast, is now 74 years old. But Biden thinks that, if nothing else, he can surmount that: "Hell, Donald Trump's gonna be 74; I'll be 77 in better shape," he told Colbert of Election Day 2020. "I mean, what the hell."
He may still be back after all, and likely as memeable as ever.