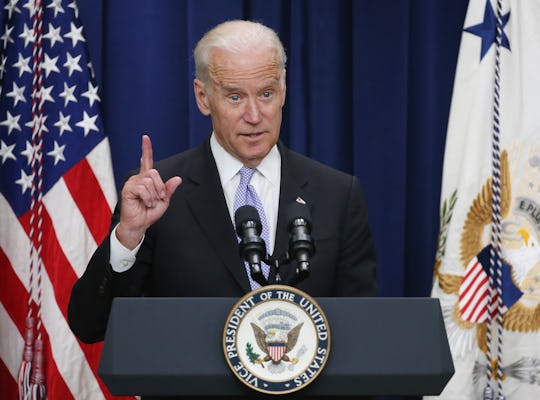 Mark Wilson/Getty Images News/Getty Images
Joe Biden Tells Congress To Do Its Job & Fill The Vacant SCOTUS Seat
Sometimes it's easy to forget about Vice President Joe Biden. Being second in command to President Obama can do that to a fella. After all, the president is enigmatic, charming, charismatic and oh yeah... the actual president of the United States. It would be hard to step out from under that long shadow, no matter how good Biden might be at his job (and as everything with politics, opinions about his record varies). This week, though, Biden told Congress to do its job and fill the vacant SCOTUS seat, stepping out into the limelight to bring down the boom.
In a candid interview with ATTN editor-in-chief Matthew Siegel this week, Biden was firm in his condemnation of Congress. The GOP Senate's refusal to consider Obama's chosen nominee for the vacant Supreme Court seat, Chief Judge Merrick Garland, is evidence of the dysfunctional nature of Congress, according to Biden. "Everybody worldwide knows how dysfunctional the Congress is now," Biden said. Biden then called on the Republican senators, who continue refusing to consider Garland as a potential nominee, to "do their job", telling Siegel:
In the time we nominated Chief Judge Garland, nobody has questioned his integrity. Nobody has questioned his scholarship. Nobody has questioned his open-mindedness. But they said, We're not going to have a hearing. Nobody is suggesting individual senators have to vote "yes" on any particular presidential nominee. But reading nothing, hearing nothing, is not an option the constitution leaves open.
Garland certainly seemed like a unifying choice by Obama to be elected to the Supreme Court. The Chief Judge of the United States Court of Appeals for the D.C Circuit (arguably the second most powerful court in the United States) is a well-liked moderate with friends and supporters in both parties. Unfortunately the issue doesn't appear to be with Obama's choice, but whether or not he has the right to choose a nominee in his final year as president.
Biden has made his thoughts on the matter clear — as have many others. The#doyourjob hashtag on Twitter has been busy calling attention to the lack of accountability in Congress all day, in fact:
Some Republican senators have been quick to call attention to the so-called "Biden rule," based on a Senate floor speech Biden gave in 1992 when he served as Chairman on the Senate Judiciary Committee, when Biden suggested that the Senate could delay considering a presidential nominee to the Supreme Court during an election year. In a statement to CBS News recently, Biden was quick to clarify his beliefs on the matter, saying,
I said and I quote, "If the president consults and cooperates with the Senate or moderates his selections absent consultation, then his nominees may enjoy my support, as did Justices Kennedy and Souter." There is only one rule I ever followed on the Judiciary Committee: that was the Constitution's clear rule of advice and consent.
While the presidential election race continues to heat up and gobble up all of our attention, perhaps it's important to remember that Judge Merrick Garland is still sitting, waiting to find out his fate.
So seat him or don't seat him, Congress. But at least consider him. Joe Biden's orders.