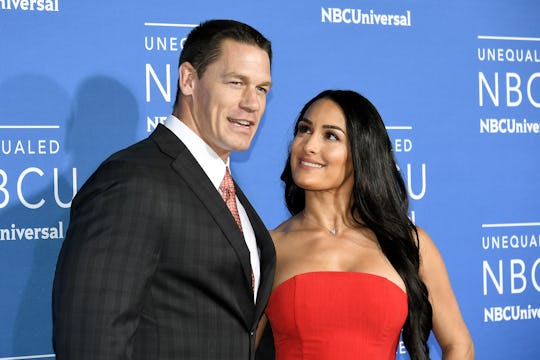 Dia Dipasupil/Getty Images Entertainment/Getty Images
John Cena Might Undergo Surgery So He & Nikki Bella Can Start A Family Together
It's been a whirlwind couple of months for John Cena and Nikki Bella. After getting engaged last year and then ending their engagement just three weeks before their wedding this year, the couple has officially reunited on the pretense that they will start a family together. In a new episode of Total Bellas, according to People, John Cena said he'd reverse a vasectomy he reportedly had so he and Bella could try to have children together. And though he had previously said he was opposed to having kids, it does seem like the pro-wrestler might have really changed his mind.
In this upcoming Sunday's episode of Total Bellas, as People reported, Cena and Bella discuss their parenting/relationship conundrum. "I physically can't have kids," Cena said to Bella, according to People. "So I'm also telling you that I'm willing to have surgery and then still go through with being a dad." Bella replied: "You're sure, though? Are you gonna change your mind?" to which Cena affirmed: "I'm not gonna change my mind. I would never, ever say something like this." Bella then cried, and said that Cena would be "the most amazing dad in the world."
It was clear from the beginning that the issue between them was that their future plans for wanting a family simply didn't align. However, in the last episode of Total Bellas, the couple sat down and Cena wanted to confirm that their issued stemmed from just whether or not they'd have kids, and nothing more. According to People, Cena said:
In a hypothetical universe say I was like, "Okay, we're going to have kids." And we do — and you find out that wasn't the real problem. And then years from now you look at me and resent.
Cena then explained that he needed to know whether the issue was having kids or that if they had fallen out of love. "It kind of feels like both," he said, according to CNN. "There's no way that I can interpret your actions over the past three months as anything different." Bella replied by confirming that the issue was only that he didn't want kids, and that she did very much want to be with him. According to Us Weekly, she explained:
I just want to be a mom, to constantly wake up and look at this beautiful thing that I made. I feel like there's so much more I want to do with you and experience with you. It's just wanting to be a mom and knowing you will not be a dad. So it's me who has stuck around thinking I could be okay with it, and I've just come to the realization that I can't — I'm not okay with it.
Even despite their breakup, it remained clear that Cena and Bella cared deeply for one another, and they seemed to want to resolve their issues. A source close to the couple told People that they were back together not long after separating, and that it was never really about their issues as a couple. "This was never really about ending their relationship — it was about calling off a wedding because something didn't feel right," the source reportedly told People. "... She was pretending she was okay with not having a kid, he was pretending he absolutely couldn't and wouldn't budge on that point."
Bella has been open about expressing just how much Cena means to her according to Us Weekly, at one point sharing on her show: "John, I mean he's like a frickin' magnet to me. It's like my heart sinks so deep into my stomach. Like I feel like I don't even know how to breathe as if my lungs are filled with fluid." The feeling seems to be mutual, as Cena has said he loves Bella "more than I've loved anyone in my entire life," according to Us Weekly.
Though it's impossible to say what will happen with their relationship in the future, it seems obvious that they are at least committed to working on things together.