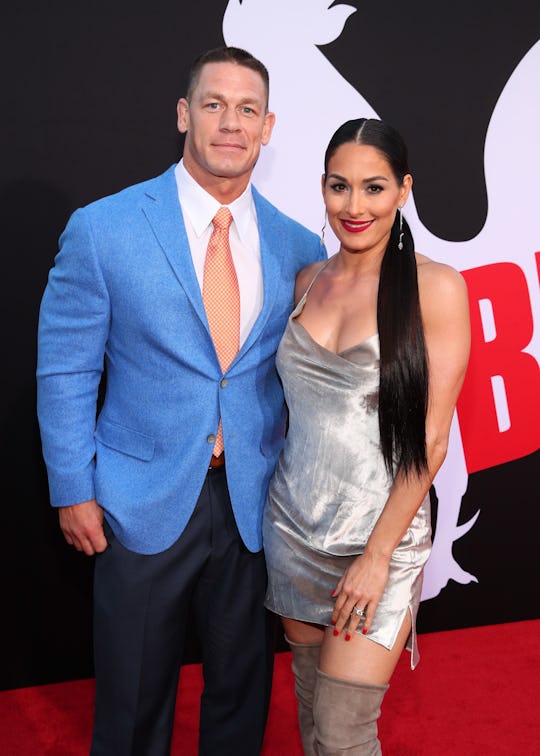 Christopher Polk/Getty Images Entertainment/Getty Images
John Cena Opens Up About His Thoughts On Having Kids Days After Reuniting With Nikki Bella
A lot has happened over the past month in John Cena and Nikki Bella's relationship. After calling off their engagement just three weeks prior to their wedding, and then revealing on a teaser of Total Bellas that they were, well, definitely still in love, fans of the couple have been on quite a rollercoaster ride. However, the plot has thickened, because in a recent interview with TMZ, John Cena said he'd "love" to be a dad, despite separating from Bella reportedly over not wanting to have kids together in the first place.
"I would love to be a dad," he said in the TMZ interview. "I realize very much that I have been steadfast in saying that I don't want children. But I'm a little bit older now, a bit wiser. At age 18, we say things different at age 25, at 35. I would love it only because I dedicated my life to my work and now I'm realizing that there is life and life exists and it's beautiful and I think part of that is being a parent, so we'll see."
In April, Page Six reported that the cause of their separation was that they had different long-term goals. In fact, back in 2013, as Page Six pointed out, Cena said on an episode of Total Bellas: "I've told you I don't want to get married and I don't want to have kids, and you do want to get married and you do want to have kids. I feel like there's a time bomb over my head."
Be that as it was, the two proceeded with their relationship, and, as People reported, the two got engaged in April 2017 on live TV. Almost exactly a year later, they announced that they were separating. Us Weekly reported that Bella shared in a statement: "While this decision was a difficult one, we continue to have a great deal of love and respect for one another. We ask that you respect our privacy during this time in our lives."
Their planned wedding day came and went, but it was clear that the two still cared for each other deeply. People reported that the pair had officially reunited just a few weeks later, and then a teaser clip for an upcoming episode of Total Bellas was released, in which Cena and Bella faced each other after their split.
News of the reconciliation was prompted by the release of a clip from Sunday's episode of Total Bellas, in which the two reunite. In it, Bella says to Cena: "You didn't even call or text me yesterday," to which Cena explains: "I'm supposed to stay away from you. It's taking every fiber of my being not to text or call you. I'm just trying to do the right thing." He then says "I miss you so much," and Bella says "I miss you too." At the beginning of the segment, Bella tells fans:
John, I mean he's like a frickin' magnet to me. It's like my heart sinks so deep into my stomach. Like I feel like I don't even know how to breathe as if my lungs are filled with fluid.
A "source" close to the couple reportedly shared with People that the dissolution of their relationship really had less to do with having personal issues and more to do with their differences in terms of long-term plans, specifically, whether or not to have kids. "She was pretending she was okay with not having a kid, he was pretending he absolutely couldn't and wouldn't budge on that point," the source told People.
If that was really what was holding them back, it could mean that this reconciliation is for good, and perhaps even plans for a wedding re-do could be on the horizon. Fans will just have to wait and see.