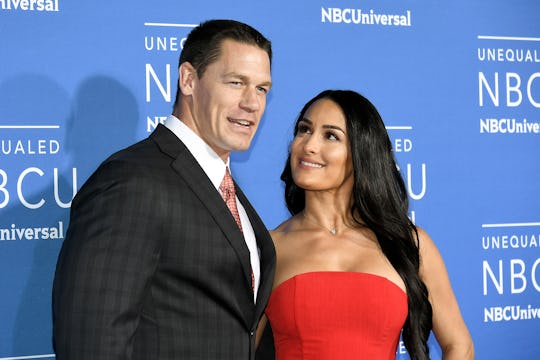 Dia Dipasupil/Getty Images Entertainment/Getty Images
John Cena Said He'll Make A "Sacrifice" To Have A Kid With Nikki Bella, & Twitter Is Conflicted
For those who haven't been following along, here's a debriefer to get started on this wild ride of a story: John Cena and Nikki Bella are officially back together after getting engaged and then ending their engagement a mere three weeks before their wedding. Since their split, it's been speculated that the relationship collapsed because Bella wanted to have a child, and Cena did not. All of that was confirmed and then some when John Cena said he will make a "sacrifice" to give Nikki Bella a child in a teaser trailer for Totally Bellas, and fans are having mixed responses to the layered situation. Cena and Bella's reps didn't immediately respond to Romper's request for comment.
In a new teaser trailer for Sunday's episode of Totally Bellas, Cena and Bella talk over dinner and try to work out their differences. In particular, Cena wants to clarify whether the problems that they have in their relationship are due to fundamental incompatibilities, or if the only problem really is that Bella wants a child. "In a hypothetical universe say I was like, 'Okay, we're going to have kids.' And we do — and you find out that wasn't the real problem," Cena began. "And then years from now you look at me and resent."
He continued, trying to clarify whether Bella is unhappy with him, or just unhappy with their mismatched future family plans: "So I'm talking to you tonight and I'm trying to ask all these difficult questions, because I don't know if you're just upset that you're not going to be a mom, or you have fallen out of love with me," he said. "Because it kind of feels like both. There's no way that I can interpret your actions over the past three months as anything different."
Bella responded to him saying:
I just want to be a mom, to constantly wake up and look at this beautiful thing that I made. I feel like there's so much more I want to do with you and experience with you. It's just wanting to be a mom and knowing you will not be a dad. So it's me who has stuck around thinking I could be okay with it, and I've just come to the realization that I can't — I'm not okay with it.
At this point, Cena realizes that the issues between them may have been solely that Bella wants to have a baby, and coming in for the true sucker punch moment, he says:
So it literally is just about being a mom? Okay. Because I can't have you out of my life, ever. I want to marry you. And relationships and marriage, especially, is about sacrifice. And I will make that sacrifice for you. I will give you a child.
Fans seem to have had mixed responses to this declaration, ranging from gladness that they're back together to a degree of skepticism, because "giving" someone a child as a "sacrifice" to maintain your relationship does sound like a recipe for some future discord. At the very least, agreeing to have a child together should be a mutual thing. "As a father or a mother you must be 100 percent committed to having and loving a child. It's not fair on the child," one fan wrote in the comments of the video. "Did he he just say that? Why should having a child be a sacrifice. I'm worried that John will resent the child I pray that he loves it," said another.
But not all fans agree that their relationship is necessarily doomed, and in fact, some have even argued that it's really nobody's place to judge them either way. "Everyone should mind their own business," one fan tweeted. "Whatever goes on between John Cena and Nikki Bella is strictly their personal lives. The media need to butt out."
But the idea that Cena doesn't want to be a dad at all may not be entirely true. In fact, it might just be a matter of Bella simply wanting it more. Fans can gather as much from what Cena recently told TMZ, when they stopped him on the street and inquired about the state of his relationship. He answered: "I would love to be a dad. I dedicated my life to my work, and now I'm realizing that there is life, and life exists, and it's beautiful, and I think part of that is being a parent."
Regardless, it's beyond clear that these are two people who love each other very much, and want to do what it takes to make their relationship work. When they first got back together, Bella said of Cena: "John, I mean he's like a frickin' magnet to me. It's like my heart sinks so deep into my stomach. Like I feel like I don't even know how to breathe as if my lungs are filled with fluid." As sweet as that is, it seems the two are doing everything they can to keep their love alive... and keep fans on their toes.