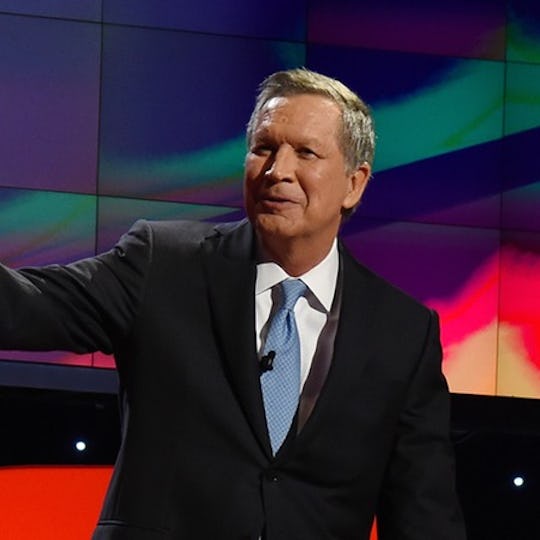 Ethan Miller/Getty Images
John Kasich Will Drop Out Of The Presidential Race — REPORT
After another huge loss in the Indiana primaries on Tuesday, Ohio Gov. John Kasich will finally (finally) drop out of the presidential race, according to The Hill, which credited NBC News. The candidate will reportedly make the announcement at 5 p.m. on Wednesday in Columbus, Ohio. Kasich garnered just 7.5 percent of the votes in Indiana, netting zero delegates, which kept his count at just 153 – less than Florida Sen. Marco Rubio, who dropped out of the race in March. Kasich's only win was in his home state of Ohio, where he scored 46.8 percent of the vote and gained 66 delegates.
Though polls rarely favored Kasich in the primaries, many thought he was the best chance the GOP had to beat either former Secretary of State Hillary Clinton or Vermont Sen. Bernie Sanders in the general election. Kasich's concession comes on the heels of the announcement that Texas Sen. Ted Cruz dropped out of the race on Tuesday night, leaving casino owner Donald Trump as the only Republican left standing.
America, this is why we can't have nice things. A man who incites violence at his rallies, sexualized his infant daughter on television, and wants to ban 23 percent of the world's population from the U.S. based on their religion, is now one step closer to the presidency.
To be fair, Kasich certainly had his share of issues, too – his victim-blaming attitude towards campus rape, his opposition to Planned Parenthood, and his views on LGBT rights leave a lot to be desired, but in today's political climate, he could easily be called the lesser of three evils. As of Wednesday night, we'll be down to just one, and boy, is that one a doozy.
And it's not just liberal pinkos who are horrified by the idea of a Trump presidency; NBC News reported that on Tuesday night, amid calls for unity within the Republican party, were begrudging tweets of support for Clinton among party members who'd rather vote blue than, uh, orange:
Republicans who aren't keen on voting Trump or defecting from their party now have just one option left: drafting a new nominee, one who isn't even running. While middle-aged heartthrob and Speaker of the House Paul Ryan's photo hangs inside many a GOP gym locker, he's repeatedly stated that he will not accept the nomination for president. Former Massachusetts Gov. and outspoken Trump critic Mitt Romney is also a favorite, although he, too, claims that he "can't imagine" running again. No matter who the GOP chooses, Trump has hinted that a contested convention would cause riots, and I'm inclined to believe him. All he'd have to do is say the word.