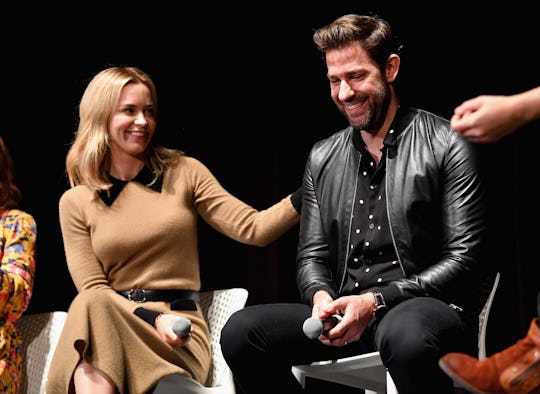 Dia Dipasupil/Getty Images Entertainment/Getty Images
John Krasinski Was The Proudest Husband While Watching Emily Blunt As Mary Poppins
When you're married or in a long-term relationship, it's incredibly easy to start seeing your partner through a very specific lens. It's easy to start seeing that person as they pertain to you or your relationship with each other, and forget that they exist as their own entity completely separate from you. But in this world, you need to find someone who sees you as your own person and is rooting for you every damn day of the week. Much like John Krasinski watching Emily Blunt as Mary Poppins. His reaction to the new movie wasn't just as a husband, but as an actual for real fan who understands her value beyond their relationship framework. So get you a partner like this one.
The Jack Ryan star recently opened up about his reaction to the upcoming movie Mary Poppins Returns, starring Emily Blunt as the iconic titular role. Blunt had some seriously large shoes to fill taking over a role made famous by legendary actress Julie Andrews in the original Disney film Mary Poppins from 1964, and it seems she managed to pull it off.
More than pull it off, if Krasinski's emotional reaction is anything to go by.
As The Office alum said in an interview with Entertainment Weekly, he was moved to tears by the film:
Twenty-five minutes into the screening, which was just Emily and I, I stood up and walked to the back of the room, which of course immediately communicates nothing but love to your partner that you're walking out of the room. And she said, "Oh my god, you've never done that before, do you want me to stop the movie?" And I was just in the back at the concessions table and I just said, "No, I'm looking for napkins," because I just needed anything to stop crying and to blow my nose because I had blown through an entire box of tissues in 25 minutes.
Krasinski went on to tell Ellen DeGeneres on Ellen that this new movie is "honestly one of the most beautiful films" and that he thinks "it's exactly what everybody needs at the holidays. It's pure joy," as HuffPost reported.
In other words, Emily Blunt has zero need of a public relations department; her husband is obviously the best cheerleader a girl could possibly ask for, really.
This isn't even the first time Krasinski has admitted he was blown away by his wife's talent; when he first saw Blunt sing in the musical Into The Woods in 2014, he told Vanity Fair:
The orchestra started playing, and Emily started singing, and I just immediately wept. It was really wild. It was like finding out that your wife can levitate. It was just like, "When were you going to tell me this?"
Blunt and Krasinski have been married since 2010 and have two daughters, 3-year-old Hazel and 1-year-old Violet. They recently worked together for the first time on the movie A Quiet Place, which both have called a positive experience, as Den Of Geek reported. Because it seems to me this particular Hollywood couple have figured out a secret to staying together... rooting for the other person's success.
Which is not such a small thing at the end of the day.
This first-time mom wants to have a home birth, but is she ready? Watch how a doula supports a military mom who's determined to have a home birth in Episode One of Romper's Doula Diaries, Season Two, below. Visit Bustle Digital Group's YouTube page for the next three episodes, launching every Monday starting November 26.