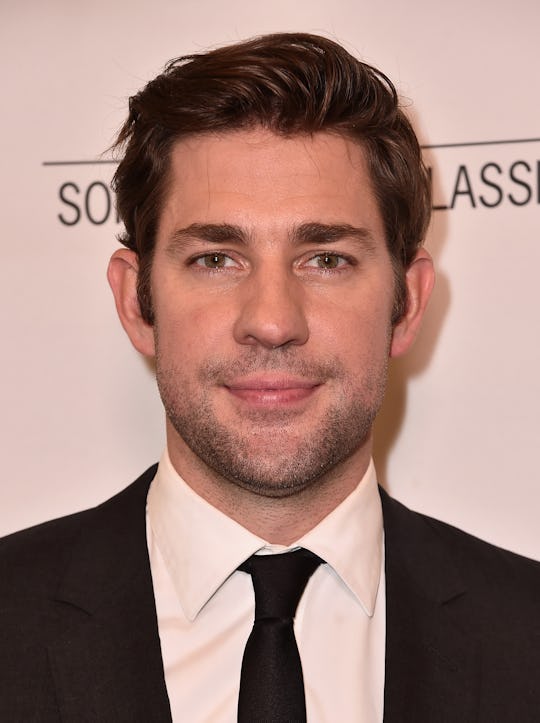 Alberto E. Rodriguez/Getty Images Entertainment/Getty Images
John Krasinski Says Parenting Is Hard & That's Something Everyone Should Acknowledge
My son Jack wore Superman pajamas every day for a year. He was two-years-old, and completely the boss of me. He had two pairs, one for day and one for night. I was utterly incapable of getting him to change, because, as stated, he was the boss of me. As were his brothers. Parenting was hard, and it's good to know that even celeb parents like John Krasinski can relate openly. In a recent interview, Krasinski said parenting is hard and that parents everywhere need to be honest with each other about it. I say "hell to the yeah" on that one.
Krasinski (whom some of you might recognize as my secret boyfriend, Jim Halpert from The Office), spoke to the Today show about the realities of parenting recently; The father of 2-year-old Hazel and 6-month-old Violet, whom he's raising with wife and actress Emily Blunt, admitted to being relatively unprepared for life with two little girls under the age of 2:
You can read all the books you want ― I certainly thought I was prepared because I had such amazing parents growing up. I just figured, I'll just do exactly what they did. And then you realize that, moment-to-moment, you don't know what they did because there is no manual. There's no exact way to go about things.
Krasinski, who stars as an expectant dad in the movie The Hollars, which he also directed, also talked about the way parenting changed the way he saw the world after his oldest daughter was born:
I actually got offered the script six or seven years ago as an actor, and I would say that my understanding of the script ... to say that it changed completely would be the greatest understatement of the century. I'd had my first daughter, and when we went to go shoot, I think she was 4 and a half or 5 months old, and I went into the movie in a completely different way. I think having kids totally changes your perception of family and where you're from.
Despite how overwhelming parenting can seem sometimes, Krasinski is clearly a big believer in being open about his struggles, and figures parenting might be easier if everyone was simply honest about what the day-to-day role really, truly looks like.
"I'm a big fan of being open about the truth and how you really feel, and not putting on a pretty face for everybody," he said. "No one really tells you that it's hard and there are sleepless nights. Kids get sick, kids fall down and get hurt, and all these things are really intense and really emotionally difficult ― and you hurt for them more than you hurt for yourself."
Despite the struggles, Krasinski admitted he sometimes asks himself, "What did I do with my life before this?"
And I know what he means. My son Jack now wears normal people clothes. He is still a little bit the boss of me, but I wouldn't have it any other way.