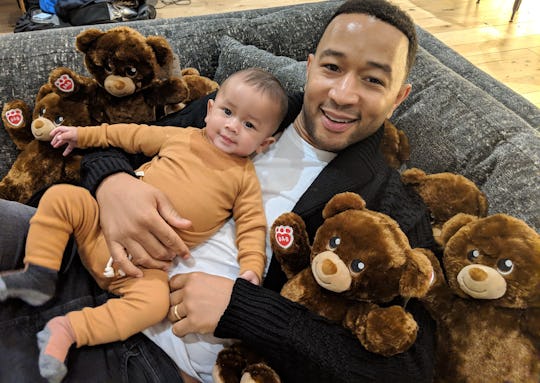 Build-A-Bear Workshop
The Sweet Way John Legend & Build-A-Bear Are Supporting Kids Of Incarcerated Parents
John Legend may be a super talented musician and one-half of one of the most beloved celebrity couples ever, but he's also a dad of two. And while his children, Luna and Miles, may be about to enjoy a pretty sweet holiday with their famous parents, the reality is that there are lots of kids who won't be. Though it would never be easy to have a parent behind bars, the loss would likely feel even more pronounced at Christmas. And it's why John Legend and Build-A-Bear's gift to children of incarcerated parents is so special and so important.
In an attempt to bring a little extra kindness and joy, Legend and Build-A-Bear will be sending 500 kids special teddy bears, and it's one way the singer and the toy company are trying to spread the love this holiday season.
Legend and Teigen will actually be appearing on television screens together Wednesday night, according to USA Today, when the couple's Christmas special, A Legendary Christmas with John and Chrissy, airs at 10 p.m. ET on NBC. Together, they'll be whipping up holiday recipes, sharing the stage with celebrity guests, and pretty much just showing the world why they're just oh-so-adorable. Legend will also be performing songs from his new holiday album, Legendary Christmas.
But if that weren't enough, the couple recently revealed to E! News that the special will have an "old-school vibe," inspired by 90s sitcoms. Honestly, what more can you ask for?
Though the couple may have been busy preparing for their Christmas special debut, it's clear they've also been giving some thought to how they can give back this holiday season. And, with two youngsters of his no, it's no surprise that Legend is very aware of how much kids seem to adore Build-A-Bear.
In that sense, it seems like the perfect match-up: Build-A-Bear will be donating bears to children's charities for kids who have an incarcerated parent, and each time a copy of Legend's Christmas album is sold at a Build-A-Bear location, the toy maker will donate an additional bear to the cause.
But just in case anyone needed a little bit more incentive to go out and support the cause, on Wednesday, Build-A-Bear shared quite possibly the cutest photo on Instagram of Legend snuggling on the couch with his look-a-like son, along with some adorable Build-A-Bear teddy bears.
It's definitely not the first time that Legend has made an attempt to give back, and specifically to do so to help incarcerated Americans and their families. Legend, after all, is an outspoken advocate for criminal justice reform, according to The Independent, and in 2017 he explained that it's actually a personal cause for him, as a number of his family and friends have spent time in jail — including his own mother.
In an video for Vevo's "Why I Vote" campaign in 2016, Legend opened up about his childhood, and shared that after his mother became depressed, she turned to drugs, and "got in trouble a few times" which led to her getting caught up in the criminal justice system. In other words? Legend knows a little bit about what it's like to have a parent behind bars, especially one whom he argues likely could have benefitted so much more from drug treatment, counseling, and other supports. He said, "when people are going through those kinds of issues, they really need help, they don't need to be locked up."
While 500 Build-A-Bears may not bring about the kind of change he's well aware there needs to be, as someone who has a personal understanding of what it's like, it's clear he's just trying to offer up something special for kids who could use a smile.
Through his campaign, FreeAmerica, Legend is working on pushing for very much-needed change that goes far beyond stuffed animals, and that's definitely a big deal. But this Christmas, for the children who will be on the receiving end of a special new furry friend, there's no doubt that this joint venture will also seem pretty amazing.
This first-time mom wants to have a home birth, but is she ready? Watch how a doula supports a military mom who's determined to have a home birth in Episode One of Romper's Doula Diaries, Season Two, below. Visit Bustle Digital Group's YouTube page for the next three episodes, launching every Monday starting November 26.