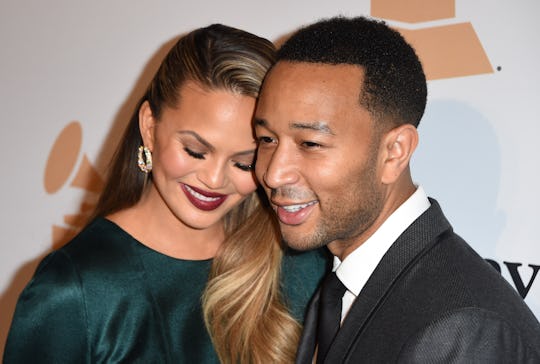 MARK RALSTON/AFP/Getty Images
John Legend Calls Out Mom Shamers & Their Sexist Double Standards
In April, model and new mom Chrissy Teigen was shamed online for having the audacity to go out to dinner a week and a half after her daughter, Luna, was born. Teigen — who's known for killing it on social media — fired back at her critics, but it seems that her husband, singer John Legend, still isn't over it: on Tuesday, Legend called out mom shamers and questioned why only Teigen was shamed when both new parents went out to dinner. Interesting double standard, isn't it?
"Funny there's no dad-shaming," Legend posted on both Facebook and Twitter. "When both of us go out to dinner, shame both of us so Chrissy doesn't have to take it all. We'll split it." While some responses posited that people have too much time on their hands if they're wasting it shaming a celebrity, and others pointed out that neither parent should face criticism for spending their time the way they saw fit, a great many praised Legend for recognizing that society, by and large, views the roles of mothers and fathers differently, and that's something that needs to change. "Women would rather shame other women than the man!" replied Twitter user @vonchy_19. "Don't get me started on the those who think they're guardians of motherhood!"
The situation is even worse than Legend realizes, though. There is dad-shaming; it's just that it swings in the complete opposite direction from mom-shaming. When New York Mets player Daniel Murphy took two games off to be with his wife and newborn in 2014, sports radio host Mike Francesa went on an unhinged rant about how he felt Murphy should have prioritized his job over his family. "You're a Major League Baseball player. You can hire a nurse to take care of the baby if your wife needs help," he said. Yes, really. His cohost Boomer Esiason agreed: "I would have said C-section before the season starts. I need to be at opening day, I'm sorry." I apologize to anyone who may have just destroyed their computer after reading those words.
Yes, in many societies, for much of history, the preponderance of parenting responsibilities fell on mothers. But it's 20-freaking-16, and it's time to say goodbye to the idea of parenting being solely a woman's job. Not only is it outdated and sexist, it's obnoxiously heteronormative – is it OK for two gay dads to go out to dinner without the baby, but not two lesbian moms? No matter the genders of parents, they are all parents.
Yes, oftentimes one parent spends more time with the baby (and it's not always a mother), but we need to let go of the idea of anyone being a primary parent. Teigen may have carried and given birth to Luna, but that doesn't diminish Legend's role in his daughter's life. Would Teigen would be any less of a mom if they'd adopted? Of course not. Luna isn't a gift that Teigen gave to Legend, or a project that he occasionally helps her with — she's their daughter, and they're raising her together. And, for the record, they are both allowed to go out to eat whenever they please, whether Luna is 10 days old and 10 years old. It's unfortunate that some of Teigen's fans don't recognize that, but luckily, Legend does.