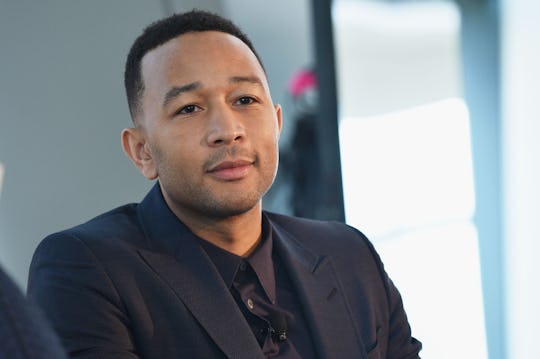 Bryan Bedder/Getty Images Entertainment/Getty Images
Pure Human John Legend Donates To School Lunch Fundraiser
I am really proud of my deep, abiding love for John Legend. I think it's proof that I do, indeed, have a shred of human decency in me. Because if I recognize all of the goodness in him, I can't be all bad, can I? Admittedly, he makes it pretty easy to love him. Not only is he a brilliant musician, a loving husband, and a devoted father, he's actually just a decent all-around human. Case in point: Legend just quietly donated to a school lunch debt fundraiser, and the best part? He donated the money under his real name, John Stephens.
Legend (or Stephens, in this case) donated to a GoFundMe campaign started by Jeff Lew to eradicate Seattle school lunch debt. As Lew explained:
Many children depend on a nutritious lunch to help them through their school day. Per the 2015-16 report by Office of Superintendent of Public Instruction for Washington State, 36% of Seattle Public School District students are on free or reduced-price meals (Report). This is based on parents filling out meal applications. If a child is unable to pay for their meal, a debt has started. Families will receive an invoice from the school district to pay the debt.
Lew originally set his goal for $21,000, and told The Seattle Times he was floored when he noticed a donation made by John Stephens to the tune of $5,000 over the weekend.
Lew suspected that John Roger Stephens and John Legend might be the same person; Legend isn't from the area, but model wife Chrissy Teigen is from a town not far from Seattle. And the Grammy award-winning singer was performing in the area over the weekend. Lew decided to reach out with a personal message, according to The Seattle Times, saying:
By the way, are you also known as John Legend? Regardless of who you are or not, thank you. You've helped a lot.
The response?
Yes, it's me.
Since then, Lew has raised the goal to $50,000, and is just $6,000 away from reaching that goal. The money raised will help students whose parents can't afford to pay their student lunch debt and keep them from being "lunch shamed." This practice of shaming children when their parents can't afford to pay their lunch debt (throwing out a student's lunch, giving them less desirable food, or identifying them publicly) has received national criticism in the news.
Thankfully, there are people out there like John Legend and Jeff Lew. People who are willing to do good things and protect good people, without any thought of praise.
There's a reason he's called Legend.