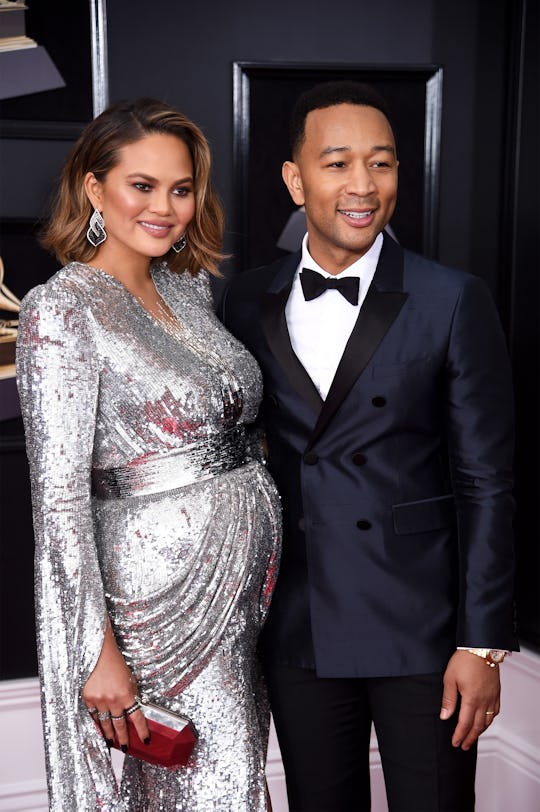 Dimitrios Kambouris/Getty Images Entertainment/Getty Images
John Legend Reveals The Beautiful Inspiration Behind Son Miles' Name
When power couple Chrissy Teigen and John Legend announced their baby son's name on Sunday, many fans wondered why they chose the adorable moniker. And already, John Legend has revealed the musical inspiration behind Miles Theodore Stephens' name.
The singer opened up about the topic at the Billboard Music Awards in Las Vegas Sunday night. "So Miles, of course, is the same name as the great Miles Davis," Legend told E! News host Jason Kennedy, according to Us Weekly. "And Chrissy really liked the name Theodore, so we put it all together and got Miles Theodore Stephens. When he came out and we hung out for him for a little, we were like, 'He looks like a Miles.'"
Looks like Teigen's prediction that their baby boy wouldn't have a middle name didn't come true. "Boy names are really tough!" the model told Ellen DeGeneres on The Ellen Show back in February, BuzzFeed reported. "I don't think he'll even have a middle name, because we can't even think of a first name."
Legend also explained at the BBMAs that he and Teigen like giving their children names with musical history. "We named our first daughter Luna Simone Stephens, and every name we give to our kids I think will have a little bit of musical history to it," Legend also said at the event, Us Weekly reported.
When Luna Simone was born, many theorized that her middle name was inspired by legendary musician and activist Nina Simone, Refinery29 reported. And in that same appearance on The Ellen Show, Teigen shared the inspiration behind her baby girl's first name, according to BuzzFeed. She revealed:
There was a blood moon happening, and it was a really beautiful night. There was a really big, vivid red moon. It was just gorgeous. And I have this love for space. I think about space camp all the time, and my time there as a youngster.
During Legend's interview on the BBMAs red carpet, Teigen took the opportunity to poke fun at her husband (rather, at all the trolls who criticize mothers for leaving their babies home to work). "Wow didn't u just have a baby John smh go take care of it !!!!!! disgusting" she tweeted Sunday evening, alongside a photo of the TV, which played Legend's interview next to a photo of baby Miles. Also in the shot, you can see Miles' teeny-tiny leg resting on Teigen's lap.
That being said, it's clear that Legend was in fact dying to get home and care for "it." Even though the BBMAs were in Las Vegas, he seems to have immediately flew back to Los Angeles to be with his family. And by family, I mean be with the short ribs Teigen was cooking for dinner.
"I'm already at the airport. I'll be home for dinner by 8," Legend said in a video he posted to Twitter after the awards show. Shortly afterwards, he tweeted a video of a sizzling stew, narrating: "This is why I rushed home. Oh yeah."
Considering how often Teigen shares updates on Luna with her fans, it's no surprise that she's already doing the same with Miles. "If you haven't seen @aliwong's new Netflix special, you are bad at picking Netflix specials," the cookbook author captioned a photo of herself while topless, wearing hospital underwear, and carrying baby Miles. She's also holding an Asian pear, and she added the hashtag "#asianpearunderwear," a reference to Wong's standup special.
Also, shoutout to Luna and her harp in the corner. I'm sure she's been playing spa-like music to keep her mama calm all weekend long.