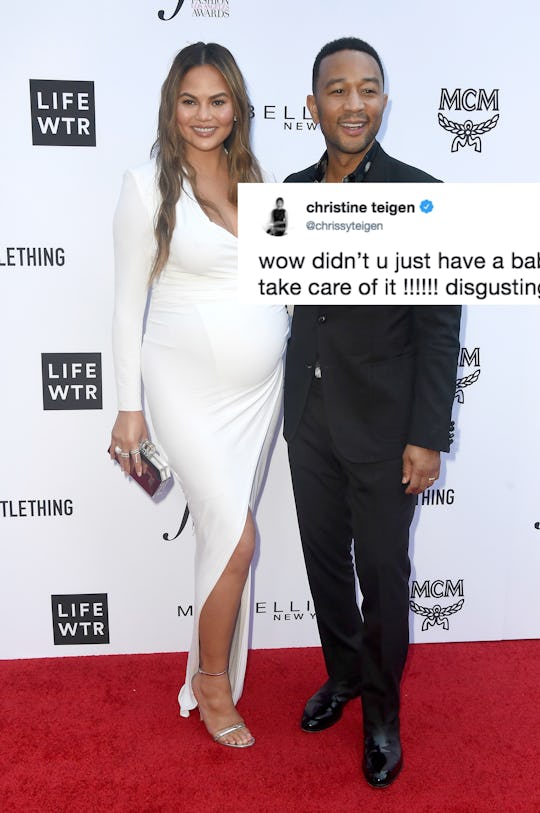 Frazer Harrison/Getty Images Entertainment/Getty Images
Chrissy Teigen Just Hilariously Called Out John Legend On Twitter, & It. Is. Brutal.
If there's one celebrity out there who knows how to make a joke, it's Chrissy Teigen. Sure, the model, cookbook author, and mother of 2 has a lot of other talents, but she's also seriously hilarious. Oh, and she also knows how to make a point. And now, just a few days after giving birth, Chrissy Teigen's tweet about John Legend at the BBMAs pokes fun at the new dad, and in the best way.
Yes, in case you missed it, Teigen gave birth to her second child, baby boy Miles Theodore Stephens, on May 16, 2018, according to Us Weekly, and she has already blessed the world with an adorable photo of the little man on Sunday afternoon. So, when her husband, Legend, arrived at the Billboard Music Awards in Las Vegas on Sunday evening, Teigen had to take the opportunity to have some fun with her husband. Via Twitter, of course.
While Legend was being interviewed on the red carpet, and the commentator asked him about his son, Teigen, who was watching from the comfort of her own couch, took the opportunity to ask a paramount question. "Wow didn't u just have a baby John smh go take care of it !!!!!! disgusting," she wrote on Twitter.
Of course, Teigen also tweeted a photo of her holding little baby Miles, and fans got to see just how tiny the little man really is. Previously, Teigen had tweeted that she had given birth earlier than her due date, and that her first son is therefore tiny. "Same nose!," Teigen tweeted when a Twitter user asked if the newborn looked like Luna. "He is a few weeks early so he's litttttttle and makes the teeniest noises. We are in love," she continued.
Teigen has always been honest, and so her tweet on Sunday is definitely not shocking. But, it's also kind of amazing. Seriously, as any mom can tell you, there's such a stigma surrounding new moms or moms that have just given birth to not leave the house or otherwise be attached to their babies. So, clearly, her online commentary on Sunday evening was definitely on point. But what's (almost)better than Teigen's tweet? The fact that her husband responded.
Yes, less than 30 minutes after Teigen tweeted her joke about her husband, her husband saw it from the BBMAs and responded. Sure, he only quote-tweeted Teigen's tweet with a respectful "true, true," but it's still nice to know that Legend was aware of his wife's commentary from back home.
After all, Teigen's post perfectly summarizes one thing that moms everywhere can relate to: that life soon after having a baby is so not glamorous. But that's OK. Whether or not you're a celebrity, having a baby changes your body, and knowing that and recognizing it is half the battle. It takes time for your body to heal, and whether or not you're concerned with losing your baby weight, it's likely that you'll be spending more time at home than usual. Which, really, is totally on par with Teigen's tweet.
Because at the end of the day, moms have so many more expectations placed on them than dads do, and that's seriously sexist. Which is exactly what Teigen's tweet was getting at. She was stuck at home caring for their baby, and Legend was waltzing the red carpet at a glamorous event, hanging out with other celebrities. Which isn't the worst thing, but it's likely that if Teigen had shown up to the event, people on Twitter would be nagging her about how she wasn't home with baby Miles.
Basically, Teigen was on point. Per usual.