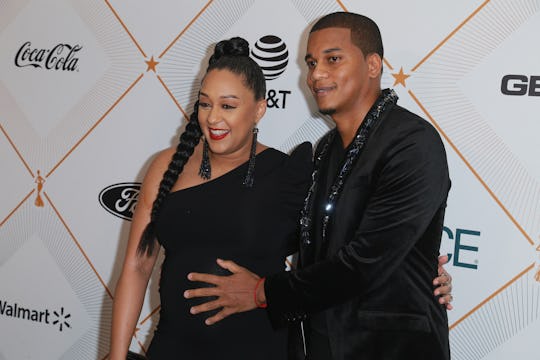 Leon Bennett/Getty Images Entertainment/Getty Images
Moms Need To See Tia Mowry's Instagram Post About Loving Her Postpartum Body
Listen, being a mom in this day and age is a tough thing. Between technology, the rise of mom-shamming, and so much more, it's become nearly impossible to keep a clear head. But sometimes, moms out there can set a good example of doing just that. Yeah, Tia Mowry's quotes about postpartum weight loss are actually so important. The thing is, the actress and mom of two knows firsthand just how much pressure moms feel to lose weight as soon as they give birth, and she isn't having it anymore.
Mowry gave birth to her second child, a daughter, on May 5, 2018, and while she has yet to reveal the name, she has gone into the details of what she's experienced after giving birth, and it's all things that moms everywhere can relate to. In an Instagram post shared to her page Saturday, Mowry wrote that she was completely OK with her postpartum body, even if it doesn't look like it did before she got pregnant. And honestly, between all the celebrities who are quick to shed their own baby weight, Mowry's post is so honestly refreshing.
After all, childbirth is an intense experience, and Mowry certainly understands that moms deserve to take care of themselves, in whatever way they choose.
Alongside a stunning photo of Mowry rocking a white shirtdress, the actor and author wrote an empowering caption about how important it is for moms to love themselves, at every stage:
This is MY #postpartum. Two weeks in. Do I still have a belly yes. I actually look like I'm 4 months pregnant and that is OKAY. I wanted to shine a light on how our society creates false expectations after a woman gives birth. Ladies, it's okay that our bodies are not PERFECT after our babies are born.
Give your self time. Go at your own pace. Don't allow people to put a time limit on YOUR body. You've just accomplished a miracle! #Love yourself, love your new body, embrace it. It you want to make changes than that's your desire and no one else's.
Seriously, Mowry makes an incredibly significant point with her post. Moms today are under so much pressure to immediately bounce back from childbirth, and so many celebrities make it seem like losing baby weight is the easiest and most natural thing in the world. But in reality, postpartum bodies are much more complicated than that.
Clearly, Mowry gets it. And she also is clearly totally in love with her newborn daughter. Just one day after her daughter was born, Mowry shared a ridiculously adorable photo of herself holding her, along with a heartwarming caption. "Feeling grateful and blessed as we welcome our little baby girl into the world!," Mowry began, continuing, "Born May 5th at 10:29 am at 6 pounds and 4 Oz 19.8 inches." Of course, Mowry hasn't said too much about her daughter in particular, but that makes another good point, too.
Because so many celebrities are pressured into sharing images of heir babies, it's nice to see Mowry taking her time before sharing any direct images of her daughter, or even revealing her daughter's name. She's entitled to privacy, as well as not magically losing her baby weight overnight. And Mowry isn't the only one to myth-bust the postpartum body. Chrissy Teigen, who also recently gave birth to her second child, tweeted out a personal, and relatable, postpartum update.
After her baby boy was born on May 16, 2018, Teigen tweeted that her body was recovering a lot better the second time around. "I can confirm postpartum life is 90% better when you don't rip to your butthole," Teigen posted. Clearly, your body after having given birth is a beautiful and fragile thing, and that's something Mowry definitely understands.