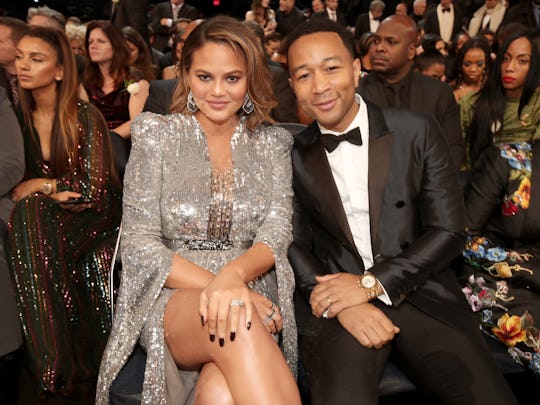 Christopher Polk/Getty Images Entertainment/Getty Images
The First Photo Of Chrissy Teigen's Son Will Make Your Heart Melt
Chrissy Teigen and John Legend announced the birth of their son this week, but didn't share too many other details. But now that they've had to time to settle in, it looks like Chrissy is back at it on social media. And the first photo of Chrissy Teigen's son will make your heart melt. He's way too cute. Teigen and Legend are obsessed with him, too, according to her Instagram caption.
She introduced the world to the little guy by writing, "Hello, world! This is Miles Theodore Stephens — We are drowning in his little peeps and nuzzles. Our household feels overwhelmed with love. Thank you for all your well wishes!" Now we just need to know how Luna is holding up with a little brother in the house.
Teigen announced his birth on Twitter on Wednesday but just writing, "Somebody's herrrrrrre!" with a couple of baby bottle emojis. She added in a subsequent tweet reply to a fan that he was a little earlier than they had expected, but perfectly healthy.
Also good news? Teigen is feeling good, too, after giving birth. Over the weekend, she got very real about some of the effects of giving birth — like tearing your butthole. She tweeted that baby Miles already had a point over his 2-year-old sister in that regard.
So it's clear that Teigen is back to her normal, hilarious self. Having a second child changes everything and sometimes the hardest part is making sure the first child doesn't start to feel a little left out. Of course, it all works itself out, but Teigen was concerned about that going into her second pregnancy. She told New York's The Cut, ""I get really worried I'm not going to pay enough attention to Luna, but they've told me you actually start overcompensating and paying too much attention to your first. So there are a lot of these little things I always wonder about."
Then again, Luna is pretty independent, according to her mom. She added in the same interview earlier this year:
She's pretty independent. Aside from John, she's not really attached to any one place or any one somebody. But I think that's going to be really hard in a few months, when she sees me breastfeeding Baby Boy. All I can do is really worry about the future. But for now, it's not too bad.
It's not like I know the kid or anything, but having watched basically every Instagram Story Teigen's ever posted, it seems like Luna is super sweet and nurturing (she feeds the dogs like a champ), so there probably won't be too much sibling rivalry. Then again, toddlers are unpredictable. Legend was torn about it in an interview with People earlier this year. He said:
I don't think Luna has a concept of exactly what it means to have a little sibling yet. She'll figure it out sooner or later, and she'll probably have some moments where she regrets it! But we're excited.
Luna's been a big part of this pregnancy, too. Back in November, she helped her mom announce her pregnancy in a video on Instagram in which she points to her mom's tummy and declares that there's a baby inside.
I'm kind of excited to see pics and videos of Luna giving her brother the lay of the land when gets a little bigger this summer. That girl could really use some extra hands to help her care of the pups, wash all of her cars, and make sure her musical instruments are at least facing the right way. Little brothers are good for stuff like that and Miles definitely seems up to the task.