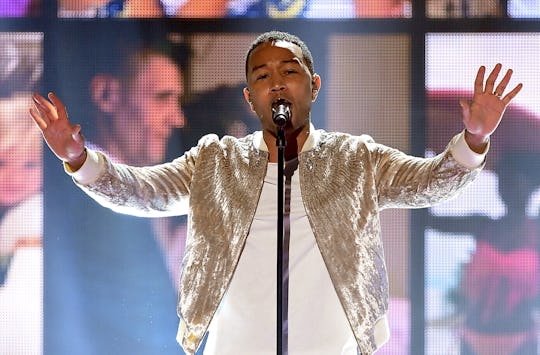 Kevin Winter/Getty Images Entertainment/Getty Images
John Legend's AMAs Performance Featured Photos Of Families, Including A Very Special One
Performances at the 2016 AMAs weren't necessarily the showstoppers you might be used to from award show performances, but one in particular was deeply heartwarming. John Legend's AMAs performance of "Love Me Now" featured photos of families, including one very close to his heart. Legend is a whopping seven-time AMA nominee, with his first nom dating all the way back to 2005, for Favorite Soul/R&B male artist. He'd later stage a comeback to win that award in 2014. This year, he was nominated for Collab of the Year for the Meghan Trainor track he's featured on, "Like I'm Gonna Lose You." But his performance was a solo act.
Legend was introduced by his wife and Twitter maverick Chrissy Teigen, who actually got heavily censored during her intro speech for some profane election real-talk. "His songs are bigger than either of us," Teigen said of her husband, "And on the heels of what's been a really interesting, fucked up, fucking election for all of us, I think we could all use a little love tonight." Unsurprisingly, the speech earned her huge applause in the Los Angeles Microsoft Theater, even if it got censored for TV.
The performance itself was fairly simple, with Legend standing on a platform staircase with stark lighting. But just as he launched into the refrain, singing, "I don't know who's going to kiss you when I'm gone, so I'm going to love you now like it's all I have," the black screen behind him lit up with an image of him and Teigen.
Along with some ambient fog, the projections were really the only effects Legend took advantage of. But the simple set up really served to showcase diverse representations of love and humanity. After the still photo of Legend and Teigen, the display shifted to showing video footage including same-sex couples, single moms with their children, and, most importantly, the display really centered non-Western cultures and people of color. Some shots featured a single person alone, and some were simply of children playing. Eventually, a patchwork of diverse couples formed on the screen behind Legend and on his platform staircase as he sang.
Finally, six backup singers in some truly spectacular denim-on-denim outfits joined Legend on stage for the grand finale, which ended with a single photo of him and Teigen each kissing their baby Luna on one cheek. The performance might have been saccharine for a less uplifting and thoughtful song, but Legend totally pulled it off.