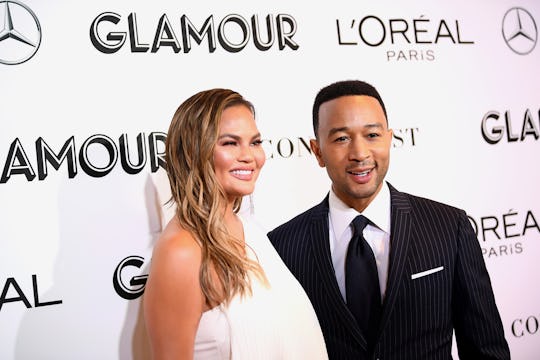 Dimitrios Kambouris/Getty Images Entertainment/Getty Images
John Legend's Supportive Speech About Chrissy Teigen Will Have You Ugly Crying
When Glamour magazine recently announced that Chrissy Teigen would be included in its Women of the Year 2018 issue, I doubt it came as a surprise to many people. The former supermodel, social media influencer, and cookbook author has become one of the most famous people in the world simply by being herself. And yet, there apparently was one person who felt overwhelmed at the idea of being on that illustrious list — Teigen herself. Fortunately, she has a good man around to remind her of all she is worth. John Legend's speech about Chrissy Teigen wasn't just a beautiful testament to his wife, it was a powerful reminder that sometimes we are all better than we realize.
On Monday the Grammy winner was tasked with presenting his wife with her Glamour Woman of the Year award, and he made it patently clear he couldn't be more proud of her if he tried. In fact, the "All of Me" singer got up in front of the crowd and introduced himself as "John, Chrissy's trophy husband" as a nod to all the times Teigen has been dismissed by critics for being his supposed trophy wife, presumably. He got a laugh, of course, but things got seriously emotional pretty quickly.
Spoiler alert, you're going to cry.
Legend explained in his speech that Teigen has struggled to feel worthy of being in a room with other important people in the past. He told the crowd that Teigen noted in her Glamour profile:
She talked about this big event, and she was crying in the dressing room because she felt so overwhelmed. She was in such illustrious company. We were celebrating the TIME 100 and she felt like she didn't belong. Like she didn't belong in the company of people like Oprah and Michelle Obama and Christine Lagarde.
It's hard to imagine Teigen ever feeling vulnerable in such a position. She has 21 million followers on Instagram and more than 10 million followers on Twitter. She has a line of cookware at Target and two cookbooks under her belt. She's the host of Lip Sync Battle and close friends to all the Kardashians. And yet, she was nervous. Because I think it's all too easy to minimize your own accomplishments when measured against someone else. Even when you're Chrissy Teigen.
Legend wanted to make sure that his wife and mother of his two small children knew just how worthy she truly was during his speech, his voice shaking with emotion:
Well I'm here to say that you belong here. I think it has become very clear to Glamour magazine and many millions of people around the world that you are more than worthy of this honor tonight.
Teigen justifiably broke down in tears when she accepted her award and talked about Legend just moments later.
I think everyone in this life needs a cheerleader like John Legend. Someone you trust to remind you that you're worthy when you're not sure. Someone to build you up when you might just as easily tear yourself down.
And if he writes songs for you too? Well, that's just a bonus.