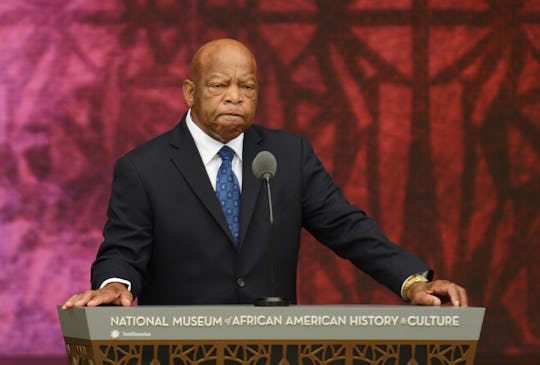 Astrid Riecken/Getty Images News/Getty Images
"All Talk"? John Lewis Redefined Civil Rights
In 2011, President Obama awarded Civil Rights icon Rep. John Lewis with the Medal of Freedom, the highest civilian honor, for his decades of fearless and oftentimes dangerous work in pursuit of equality for African Americans. Now, Donald Trump has dared to lambaste the man widely hailed as a hero, calling him "all talk" and "sad!" The president-elect's latest Twitter attack of a bold detractor has prompted a roar and denunciation of the disrespect inherent in those statements throughout Washington, as lawmakers invoke John Lewis' Civil Rights record to show Trump what integrity, dedication to country, and bravery really look like. In fact, as Trump's inauguration looms ever closer, revisiting the history of this leader who collaborated closely with Dr. Martin Luther King, Jr., is as essential as ever.
Lewis, a Democrat who has represented a majority-black Atlanta district since 1987, catapulted into the national spotlight once again when he said on NBC News' Meet the Press that he does not view Trump as a legitimate president because of the role Russian hacking played in getting him elected, and confirmed that he would not attend the Jan. 20 Inauguration Day festivities. "It will be the first one that I miss since I've been in Congress," he said in the interview. "You cannot be at home with something that you feel that is wrong, is not right."
In refusing to participate in celebrating Trump's ascent to power — especially considering Trump's noted embrace of racism — Lewis again displayed his signature unwavering conviction. And, also true to character, Trump was quick to pounce.
"Congressman John Lewis should spend more time on fixing and helping his district, which is in horrible shape and falling apart (not to mention crime infested) rather than falsely complaining about the election results. All talk, talk, talk - no action or results. Sad!" he wrote in two Twitter posts.
To accuse Lewis — who was arrested upward of 40 times and beaten in protests, and helped to secure the Voting Rights Act of 1965 with his activism — of being "all talk" and "no action or results" is simply a mind-boggling non sequitur. Born to Alabama sharecroppers in 1940 and influenced as a child by his own experiences with segregation in the Deep South and King's preaching of nonviolent advocacy for equality, Lewis has literally committed his life to that cause. And his boots-on-the-ground as well as coordinating efforts, notably carried out alongside King himself as a Big Six leader of the civil rights movement, show how he shaped the civil rights movement.
As Kentucky Rep. John Yarmuth tweeted, along with a moving montage of black-and-white photos of Lewis confronting and enduring violence at the hands of law enforcement and other enemies of the movement during that era, the congressman "shed blood to secure & protect basic human rights for all." That's more than talk.
Perhaps most notably, some of that bloodshed occurred during the 1965 "Bloody Sunday" march, when state troopers attacked peaceful protesters in Selma, Alabama. There, Lewis sustained a fractured skull for the cause. But even long before that he was fighting for what he believed to be right, organizing lunch counter sit-ins to challenge segregation, risking his life by participating in Freedom Rides in segregated buses across the South, and served as the leader of the Student Nonviolent Coordinating Committee. He spoke at the March on Washington for Jobs and Freedom in 1963— the same massive event where King delivered his pivotal "I Have A Dream" speech.
And in June, the 76-year-old congressman applied similar tactics of nonviolence resistance to advocating for stricter gun control legislation by leading an ultimately unsuccessful sit-in on the House floor. "Don't give up!" he said at a news conference at the time, according to The New York Times. "Don't give in! Keep the faith, and keep your eyes on the prize!"
It's that verve and refusal to be deterred in the face of setbacks that has propelled Lewis through the years — and exactly why it's supremely unlikely that a few tweets from the president-elect will upset him or shut him up. Because he knows where he's been and where he still want this country to go, so he's quick to invoke the struggles in which he's engaged in the name of equality. He did last week while testifying at the Senate confirmation hearing of Trump attorney general nominee Jeff Sessions, whose history of racism has stoked controversy:
The forces of law and order in Alabama were so strong that to take a stand against this injustice, we had to be willing to sacrifice our lives for our cause. Often, the only way we could demonstrate that a law on the books violated a higher law was by challenging that law, by putting our bodies on the line and showing the world the unholy price we had to pay for dignity and respect.
John Lewis is the best of America, striving continually to make it a better place for all people. Just as it's important to remember the ways he's already redefined this country, it's heartening to know that he's in the federal government as Trump prepares to take office.