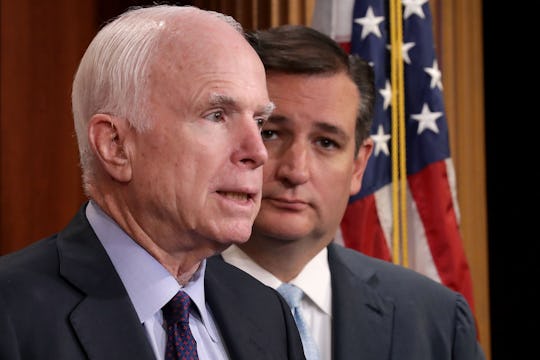 Chip Somodevilla/Getty Images News/Getty Images
John McCain Blasts Trump Over Russian Hacking
GOP Sen. John McCain and President-elect Donald Trump don't exactly have a history as bosom buddies. Regardless of their Republican status, the two seem to be diametrically opposed on a few key topics, most notably, the Russian hack of the 2016 presidential election. So it should come as no surprise that McCain's response to Trump's lackluster Russia hacking comments was less than ebullient.
President-elect Trump has refused to acknowledge Russia's involvement in the 2016 election as a threat; in fact, when it was reported that several intelligence agencies had amassed findings that Russia was, indeed, behind the email hack of the DNC, Trump categorically dismissed those findings as baseless. The CIA might have concluded that Russia got involved with the election by releasing Democrats' emails (while holding on to the hacked emails of Republicans) to sway voters towards Trump and away from political opponent, former Secretary of State Hillary Clinton, but Trump decided they were wrong. To this day, even as President Obama has issued an executive order to levy sanctions against Russia in retaliation for their involvement, Trump's official response was lukewarm and condescending at best. The President-elect issued a statement on Thursday, which was one part lecture and three parts defiance:
It's time for our country to move on to bigger and better things. Nevertheless, in the interest of our country and its great people, I will meet with leaders of the intelligence community next week in order to be updated on the facts of this situation.
Trump might not appear to take the Russian hacking seriously; but McCain certainly seems to be. According to Reuters, he responded to Trump's comments on Thursday by saying:
I agree with the president-elect that we need to get on with our lives — without having elections being affected by any outside influence, especially Vladimir Putin, who is a thug and murderer.
McCain has been vocal in his deep concern over the Russians' involvement in the election, working with Democrats on Sunday to call for a special committee meant to investigate foreign cyber attacks. This has McCain sitting in direct opposition with President-elect Trump, who is set to take office in January.
But the former presidential candidate and war hero has said the issue of Russian involvement is much bigger than partisanship, according to ABC News. McCain spoke with reporters during a tour of the Baltic states with fellow GOP Sen. Lindsay Graham:
We need a select committee. We need to get to the bottom of this. We need to find out exactly what was done and what the implications of the attacks were, especially if they had an effect on our election. There's no doubt they were interfering and no doubt that it was cyberattacks. The question now is how much and what damage and what should the United States of America do? And so far, we have been totally paralyzed.
For his part, Russian President Vladimir Putin continues to deny Russian involvement in the election. Also of note: Putin was one of the first world leaders to personally telephone President-elect Trump to congratulate him when he won the election. Make of that what you will.