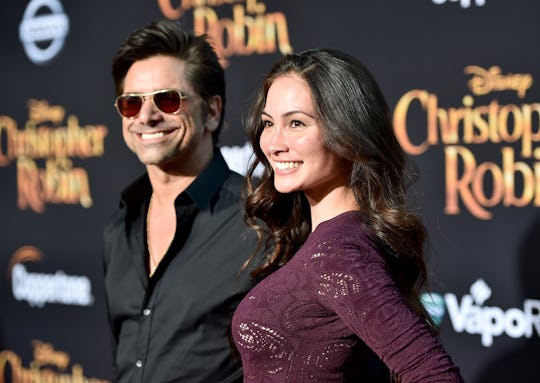 Alberto E. Rodriguez/Getty Images Entertainment/Getty Images
New Parents John Stamos & Caitlin McHugh Can't Get Enough Of Baby Billy — Even On Date Night
Any fan of Full House always knew Uncle Jesse would be a great dad when the time was right... And now, John Stamos and his wife can barely take a minute off diaper duty without being obsessed with their adorable offspring. In fact, Stamos and Caitlin McHugh are all new parents who just can't stop missing their baby, even when they're on date night.
Attending the recent Creative Arts Emmy Awards in support of the Full House reboot — Netflix's Fuller House, which was nominated in the Outstanding Children's program category, according to Variety — Stamos and his better half took a minute to chat on the red carpet with Entertainment Tonight. And wow, if there was ever a more starry-eyed new dad gushing about a baby, I can't think of him.
"We miss him already," Stamos, 55, told Entertainment Tonight. "We just watched a video on the way over here... [We] want to go back home."
McHugh added in the same interview: "Even when he's asleep, I'll go like look at my videos of him because I miss him so much." McHugh gave birth to Billy in April, according to Us Weekly.
Meanwhile, the couple — who named baby Billy after Stamos' dad, according to Good Housekeeping — seemed a little less forlorn on a previous date night in July... but it was for a children's movie, Christopher Robin. On the red carpet then, McHugh said the pair wanted another baby "ASAP," as Entertainment Tonight previously reported. "Right now, Billy is extremely spoiled." McHugh told the news outlet earlier this summer. "He needs [siblings] to keep him grounded. If he's the only one, he'll get way too much love because there hasn't been a child on either side of our family in quite some time."
The Fuller House star seems more than OK with expanding their brood and Stamos has clearly waited so long to be a dad, he doesn't want to miss a second of Billys' childhood. "When I look at him, I feel like I've been thinking about that face for a long time," Stamos told People in May. "I always knew it was going to be like this [even though]... it took me longer than it should've." Awww!
While the new parents seem to be glowing every time the public gets a glimpse of them, the couple has had to deal with some less than perfect moments, ass the Daily Mail reported. For instance, last month, McHugh was trolled when she posted bikini shot on Instagram to announce that she was going back to work as a model "after a long hiatus (growing a baby)," with a user commenting that it was "gross" for a mom to pose in a bathing suit. (Ugh...) To which McHugh posted it "was not as gross as trolling," Ha! And as for Stamos' perfect reply? He chimed in with: "MILF-wife life."
Anyone who grew up watching Stamos and the rest of the Full House cast knows that it hasn't always been easy for the star, who has weathered a divorce and spent time in rehab, as E! News reported. So, to see him happily settled truly makes a fan like myself happy, because he seems like someone you actually know. Billy is adorable and best wishes to the couple in coping with the upcoming toddler stage. As Uncle Jesse would say, "Have mercy!"