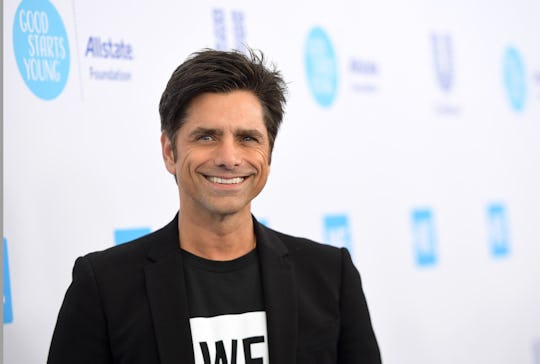 Matt Winkelmeyer/Getty Images Entertainment/Getty Images
Oh Have Mercy, John Stamos' Newest Photo With Baby Billy Is Easily One Of His Sweetest Yet
John Stamos really loves being a dad. No, guys, I mean he really, really loves it. Like DJ Khaled level loving it. Maybe it was all those years as Uncle Jesse on Full House? An always a bridesmaid, never a bride situation. Because now that he's a dad himself, he's all in. In fact, Stamos' newest photo with baby Billy should be on every Father's Day card forever, because it's basically a moving symbol of love.
Stamos and his wife, actress Caitlin McHugh, welcomed their son William "Billy" Christopher on April 16. The two had been dating for a few years before quietly getting married back in February, according to Hello Giggles. In the two months since, Stamos has either been posting pictures of Billy on his Instagram feed or talking about his son whenever he gets the chance. Which is especially poignant since the actor told People last Thursday that fatherhood wasn't something he had necessarily considered as an option for him until now. "I thought it was beyond me to have a kid and a great wife, but it's given me a reason to live," he told People. "Life is in session now." Now that he has them both, however, he is sharing his joy with the whole world.
Stamos shared the newest picture with his little boy on Instagram cuddled in his arms on Thursday with the most moving caption (get the tissues ready, guys), including a quote from the song "Dear Theodosia" from Hamilton:
"Look at my son, pride is not the word I'm looking for, there is so much more inside me now. When you smile, I fall apart —" Listening to Dear Theodosia - Goosebumps /Tears - Damn you #linmaneulmiranda Your message is more needed now than ever. Your genius is time-released!
This photo was the latest in a series of Stamos has shared on Instagram. When Billy was born on April 16, the proud dad shared a black-and-white photo of his son sleeping on his chest with the caption: "From now on, the best part of me will always be my wife and my son. Welcome Billy Stamos (named after my father) #NotJustAnUncleAnymore #Overjoyed."
A particular favorite of mine? When Stamos shared a picture of himself with his Fuller House castmates Lori Laughlin and Bob Saget getting in some time with Billy, who happens to be wearing a Jesse and the Rippers onesie. Because of Uncle Jessie's band on Full House, obviously.
As Father's Day approaches, Stamos is naturally reflecting on the fact that this is going to be his first Father's Day with his son, but he's still thinking about his own father, Bill Stamos, who died in 1998. Stamos told People that he plans to try to honor both his own father and his son on Father's Day this Sunday:
I know I'll be crying a lot. I've been writing Billy a letter that I'm putting away for him to read when he's 18. I'll probably continue writing that, and I'll certainly try to honor my father.
Stamos is just all about that baby of his, and it's honestly pretty heartwarming. Especially considering the fact that he wasn't sure if that was the path his life might take. Also, let's get real here, he just looks damn adorable carrying that baby of his around like his absolute favorite accessory. So for Father's Day this year, I hope someone gives Stamos a card of his own picture holding his son. For the man who probably has everything, I have a sneaking suspicion that a framed picture of him carrying his son is all he really wants.