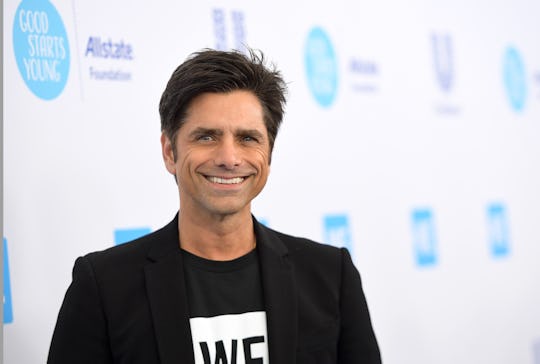 Matt Winkelmeyer/Getty Images Entertainment/Getty Images
John Stamos Shows Off Billy's Face For The First Time In An Emotional Father's Day Post
On Sunday, John Stamos celebrated his first Father's Day since welcoming his 2-month-old son, Billy, in April. The day was an emotional one for Stamos, especially since he wasn't sure if fatherhood would ever happen for him. And to commemorate the milestone, John Stamos showed off Billy's face for the first time ever. Have mercy.
For the most part, Stamos prefers to keep his private life private. Case in point: Stamos has refrained from showing Billy's face on social media ever since he made his grand debut on April 15. Of course, celebrities obscuring their children's faces on the 'gram isn't a new phenomenon — just ask Hills alum Kristin Cavallari or actress Zoe Saldana, for instance. Although some fans don't appreciate this tactic, it's an effective way for celebrities to maintain their child's privacy. To each their own.
On Father's Day, however, the typically private Stamos decided to gift fans with an adorable shot of Billy's face. In the cute shot, Stamos holds Billy up to the camera as they pose in front of what appears to be a backyard or forest of sorts. Needless to say, little Billy is stinkin' cute — his big eyes and small tufts of hair are too much. Welcome to the 'gram, Billy.
But wait — that's not all. Stamos completed the pic with an emotional message about fatherhood. Stamos wrote, according to Instagram:
My first Father's Day means that I don't have to hand a kid back to the parents when someone yells cut. It means when people ask me if I'm a father, I don't have to use the goofy line, "No, but I play one on TV" My first Father's Day means that from this day forward— I will start to look my age (and older) Most importantly, it means that for the rest of my life, I'll always be known as someone's dad. And that's all I ever wanted. Happy Father's day.
Aww, this note is so sweet I don't know even know where to start. It's wonderful to hear Stamos has finally achieved his long desired dream of fatherhood, and it's even more heartwarming to see him in action as a dad. I'm totally ready for Stamos to release more shots like this one.
Oh, and as for whether Stamos is starting to "look his age" (he's 54), I'm going to say the answer is no. I can't believe Stamos — aka Uncle Jesse — looks exactly the same after all these years. I guess Stamos really lucked out in the gene pool.
As for why Stamos decided to show off Billy's face for the first time, I imagine it has to do with his abundant joy. I bet Stamos was feeling especially sentimental on Sunday, and he wanted fans to share in his happiness.
Caitlin McHugh, Stamos' wife of four months, also took to Instagram to include fans in the couple's Father's Day celebrations. "Happy 1st Father's Day to the best new daddy," McHugh captioned another shot of Stamos and Billy. "I knew you'd be a great father, but you've exceeded expectations. You change diapers! Lol, and so much more, of course. We love you most."
As for people's reactions to the posts, the responses were overwhelming positive.
"Gorgeous baby. He's has some good genes," one commenter penned, according to Instagram.
Another person chimed in: "Awww babyyyyy. Omg thank you for sharing this picture with us!! He's beautiful!"
"He was an awesome Uncle Jesse," someone else said. "No doubt he is an incredible dad today!! They looks so so cute together."
On that note, Happy Father's Day to Stamos and his adorable son. Fatherhood is an incredible journey, and it's heartwarming to see Stamos enjoying the ride.