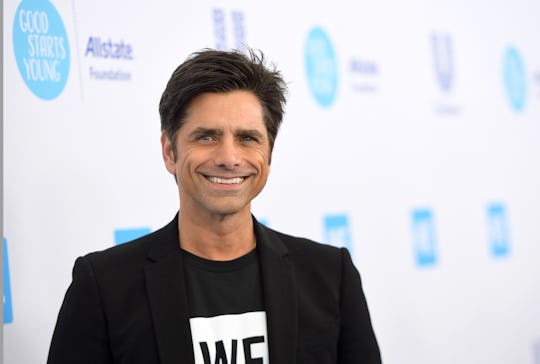 Matt Winkelmeyer/Getty Images Entertainment/Getty Images
The Way John Stamos Talks About Fatherhood & His Son's Birth Will Give You Heart Eyes
There are few things sweeter than new parents gushing about their baby. Sure, puppies are cute and The Notebook certainly tugs at your heartstrings. But when a new parent opens up about their little one, they just radiate happiness. For new dad John Stamos, that radiance also comes with a charming grin and perfectly deep tan. But enough heart-eyeing the actor, John Stamos talked about his newborn son's birth in a recent interview and what he had to say about his baby boy's arrival will make you feel all warm inside.
The 54-year-old only recently became a dad and it's already so clear that he's absolutely loving every moment of fatherhood. Stamos and his wife, Caitlin McHugh, welcomed their first son, Billy Stamos, on April 10. And while Stamos is still adjusting to life as a father, he attended the WE Day at the Forum in Los Angeles on Thursday and opened right up about how much his life had changed since the birth of his son. And he was seriously so sweet.
"It's more beautiful than I imagined," he told Entertainment Tonight. "Everything is more colorful, more exciting. Music, you know, sounds better. He's just a beautiful little boy." Stamos is obviously totally overwhelmed by his love for little Billy.
But, really, fans shouldn't be all that surprised by how in love Stamos is with fatherhood. Years ago, he played the legendary Uncle Jesse on the iconic sitcom, Full House, and it was clear that he definitely had an affinity for kids. Even before he became a dad on the show, Stamos' character was definitely a great parental figure. Now that he's a dad in real life, Stamos' joy is almost palpable.
What's more, Stamos also gushed about how well McHugh did during labor and delivery, and how it all went by like a blur. "My wife was so beautiful and so graceful through it all, like she does life," he said on Thursday, according to Entertainment Tonight. "I mean, she just kind of breezed through. I hate to tell women, but she did it in about 20 minutes. It happens so fast and then they were like, 'Take pictures! Grab her leg!' And then it was over, but it was just beautiful."
Of course, Stamos also got real about one of the less glamorous parts of fatherhood on Thursday. According to Entertainment Tonight, Stamos explained that becoming a father was sometimes just sh*ts and giggles. Literally. "I'm good," he said when asked how he was doing. "I'm a little tired. I think I've got a little poop on this suit." Honestly, what parent hasn't been there?
But through all the poop suits and tears, Stamos is surely loving getting to know his son. Mere weeks before baby boy Billy was born, Stamos opened up about how excited he was to become a dad. "I've waited my whole life for this," he said, according to People. "I just can't. I'm already so emotional and so excited… I've been dreaming about our baby. I mean, I am really excited."
For Stamos and McHugh, too, wanting a baby has been something the two of them initially bonded over. When McHugh's pregnancy was first announced in December, Stamos explained that they'd actually planned it. Speaking to People, Stamos said that his now-wife suggested, "Maybe we should have a kid [before we get married]' and I said, 'Why?'" Of course, McHugh jokingly responded, "Because you're old," Stamos said in his interview with People.
Stamos also explained, "We have the same morals and the same values, that all clicked nicely. So we said, 'Oh, well, maybe we should have a family,'" according to People. Stamos has clearly always wanted to be a dad and now his dream has come true.
Check out Romper's new video series, Bearing The Motherload, where disagreeing parents from different sides of an issue sit down with a mediator and talk about how to support (and not judge) each other's parenting perspectives. New episodes air Mondays on Facebook.