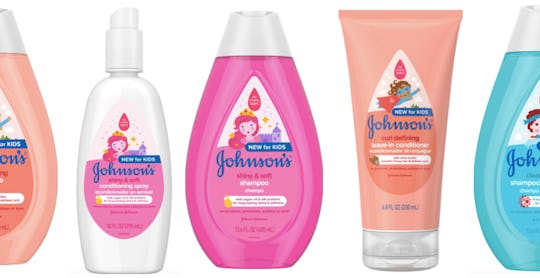 Johnson & Johnson
Johnson's Launches A Line Of Kids Shampoos & Conditioners For All Hair Types
They say that an aroma can bring you back to a place in time. And is there really one scent that is more synonymous with those newborn and baby years than Johnson's shampoo? But if your child isn't an infant anymore and you find yourself still scrubbing their sweet head with the same product you've been using since they were a couple weeks old, you might wonder if it's time for them to graduate to a big-kid product. Yea, you probably should, and that's why Johnson & Johnson launched Johnson's for Kids, a collection of shampoos and conditioners designed for a variety of hair types past the infant stage.
With two toddlers at home, there's always a bottle of Johnson's baby shampoo somewhere to be found. Truth be told, I think my two teenagers also dip into their little siblings' stash when their own hair care products ran out. The biggest difference between the original and this new line, though is that the OG doesn't have any conditioning elements to it. Since it's designed for babies, it's formulated to include the bare minimum of ingredients. The new collection offers a variety of conditioners (spray, leave-in, or rinse out), and the line's mission is to cater to all hair types, because different types and textures require different ingredients to keep that mane clean and tangle-free.
Ideally, you can begin using Johnson's for Kids products at 18 months when your babies begin entering the toddler stage, and is marketed towards kids up to 7. But why do you even need to switch shampoos anyway? Well, as your child gets older (and more active), their hair requires a little more cleansing power since it's longer and thicker, according to Joe Greco, Principal Scientist, Baby R&D at Johnson & Johnson. And since they're playing harder—and sweating more—they need a product that can remove dirt and oil on your child's hair and scalp, according to
What is staying the same is the Johnson's No Tears Formula promise, which means that the products should almost be as gentle to your child's eyes as water.
These are the new products you can expect from the new line:
Bath time may be beautiful, full of songs, laughter, and a bubbly good time. But post-bath brushing can be a battle, fraught with fear, tears, and tantrums — from both of you. The Ultra Hydrating Shampoo and Conditioner can help leave locks hydrated and healthy, which is great if your kid has spent the day splashing about at the pool or beach, which can damage hair. It has moisture-rich proteins and pro-vitamins B5 to ensure that detangling isn't detrimental to your child's hair.
No matter what messes your child makes during the day, they'll all be wiped away with the Clean & Fresh Shampoo and Body Wash. Smelling like rain water, it leaves your child's hair clean and also helps control cowlicks and tame messy tresses. Spritz the conditioning spray for added on-the-go control — or if your kid's head is a little stinky.
If your kid has fine hair (or is still in the process of sprouting some on his head), you can try the Shiny & Soft Shampoo and Conditioning Spray. In addition to detangling, these products add extra shine and help hair look fuller.
Now curly-haired girls are finally getting some lock love from Johnson's, too. The Curl Defining Shampoo and Leave-In Conditioner are made with shea butter to offer a higher level of conditioning. It can control curls and finesse the frizz and is formulated to last up to 24 hours.
Johnson's for Kids is free from parabens, phthalates, sulfates, and other dyes, making it safe to use on your child's head no matter what their age. So in a way, this new collection won't make you feel like you're leaving Johnson's (and those beautiful baby years) behind.