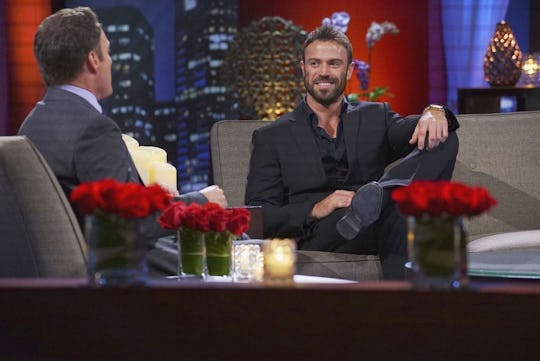 ABC/Byron Cohen
JoJo Shuts Chad Down On 'The Bachelorette' & It Receives A Standing Ovation
We could have figured that Chad would return for The Bachelorette's special "Men Tell All" episode – and we could have figured that he would fight with the other guys, like he did constantly when he was on the show. What was more unpredictable, however, was that he would antagonize JoJo – or try to, that is. Chad confronted JoJo on The Bachelorette: Men Tell All and she shut him down.
The Bachelorette producers continue to feed Chad's ego, first by giving him his own introduction (and trailer complete with charcuterie board, which was probably a joke but knowing Chad he took it seriously), but he had his own time on the couch with Chris Harrison. He provided drama when Chris brought up the fact that Chad dated both Grant and Robby's ex-girlfriends, prompting Grant to speak out about what a bad move that was.
Not only that, but apparently Chad began spreading lies about Robby during his time on the Men Tell All chat – so much so that Robby tweeted soon after about Chad and his ex-girlfriend teaming up against him.
Chad went back to his seat, but not before Chris plugged the fact that we cannot get rid of him, and that he'll be on Bachelor in Paradise (as if we didn't already know and already have our DVR ready). We thought that was the end of Chad for tonight, but of course it wasn't. When JoJo came out to talk with Chris, she was asked if she had anything to say to Chad.
JoJo responded and proved she was the smartest person in the room: she was not going to talk to him because that's exactly what he wants. "I can go off right now," she said, "but it's not worth my time." Before we can start snapping our fingers in agreement, she continued: "It's not worth my breath...he wants the attention." And with that, she completely shut Chad down.
That may be the first time in Chad's life that something like that occurred – or at least, the first time on television. The crowd rightfully went crazy, and JoJo received a standing ovation for the smackdown. Knowing Chad, this did nothing to damage his inflated ego, but maybe it will make him reconsider his actions in the future.
Actually, judging by the Bachelor in Paradise previews, Chad never learns – but at least moments like this bring us hope.