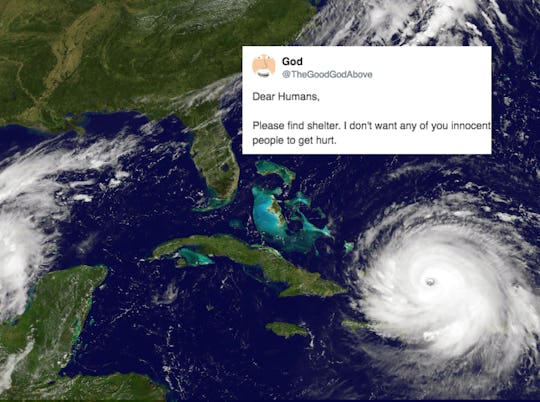 Handout/Getty Images News/Getty Images
Jokes About Hurricane Irma Hitting Mar-A-Lago Are Not OK
As of Thursday, Hurricane Irma has started making its way to South Florida after barreling into the Caribbean and causing massive damage to the islands. According to the Washington Post, the Category 5 storm has set its sights on President Donald Trump's Mar-A-Lago Club in Palm Beach, leading to a wave of quips on social media about its potential destruction. But these jokes about Hurricane Irma hitting Mar-A-Lago are in pretty poor taste.
Don't get me wrong: I understand the compulsion to crack wise. After all, Trump is so far removed from the general populace, that wanting to knock him down a peg seems harmless. But there's one fact lost in these jokes: That real people would be affected by Hurricane Irma if it were to hit Florida, no matter if it's a hurricane or a tropical storm.
According to the Independent, Mar-A-Lago employs hundreds of people who have homes, families, and lives to live. Not to mention the hundreds of workers employed at the three golf courses he owns in the South Florida region. That's on top of the fact that, as reported by the Washington Post, South Florida itself is home to more than 6 million people who are in mandatory evacuation mode currently.
Thanks in part to climate change, Hurricane Irma has been recorded as one of the most powerful hurricanes in history. It's so dangerous that, on Tuesday night, Trump declared a state of emergency in Florida, Puerto Rico, and the U.S. Virgin Islands, according to Newsweek. At one point, the Category 5 storm had sustained 185 mph winds for more than 24 hours, Vox reported. (Hurricane Irma now has sustained winds of 175 miles per hour.) That's considered a record-breaking length of time for an Atlantic Ocean hurricane, according to Vox.
Hurricane Irma has left widespread destruction in its wake after pummeling the Caribbean Islands earlier this week. According to the Washington Post, officials believe the storm has caused at least 10 deaths, if not more (the death toll is expected to rise). Entire properties have been destroyed and streets flooded because of Irma's wrath. Communication to Barbuda, a small island in the Caribbean, was completely cut off by the storm, according to CNN.
On the surface, jokes about Hurricane Irma hitting Mar-A-Lago seem like harmless comments. But there are people who could die or lose their homes and everything they own because of this powerful storm. That, in the end, is nothing to laugh at.