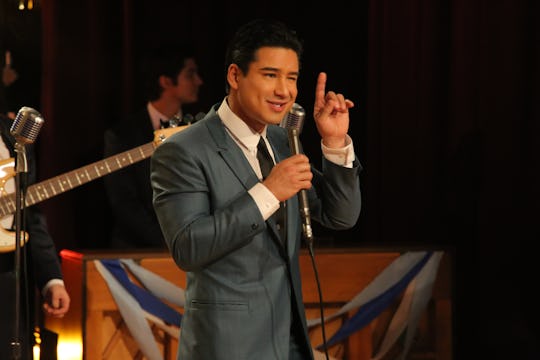 Kevin Estrada/FOX
Jokes About Mario Lopez Hosting 'Grease: Live!' Show Viewers Didn't Expect A.C. Slater At Rydell High
There were plenty of things that had people talking during Fox's big live debut musical, Grease: Live! on Sunday night. Of course, some of them had people talking more than others. While eager audience members salivated over the gleaming set, the colorful costumes, and the showy musical numbers, Twitter's many jokes about Mario Lopez hosting Grease: Live! proved that viewers had definitely not expected to see A.C. Slater show up at Rydell High School.
Between popping in during commercial breaks and taking a turn at the acting wheel once more as smarmy television teen-dance show host Vince Fontaine, Lopez's random appearances during Sunday night's broadcast provided excellent comedic fodder for the social media masses. "My favorite part of a Broadway show is when Mario Lopez steps out and delivers commentary," joked BuzzFeed editor Louis Peitzmen, in one particular hilarious zinger.
Of course, not everyone was so kind. "I don't understand why Mario Lopez is "hosting" #GreaseLive when they go to commercial," one user lamented. "It's unnecessary. Just go to commercial."
Whatever the case, Twitter wasn't taking the sudden A.C. Slater—sorry, Mario Lopez appearance lying down, choosing instead to pepper the social media platform with a swell of terribly funny (and sometimes terribly groan-worthy) jokes and commentary:
Ouch. It's okay, Mario. We still find you dreamy, even if your turn in Grease: Live! was a little bit awkward.