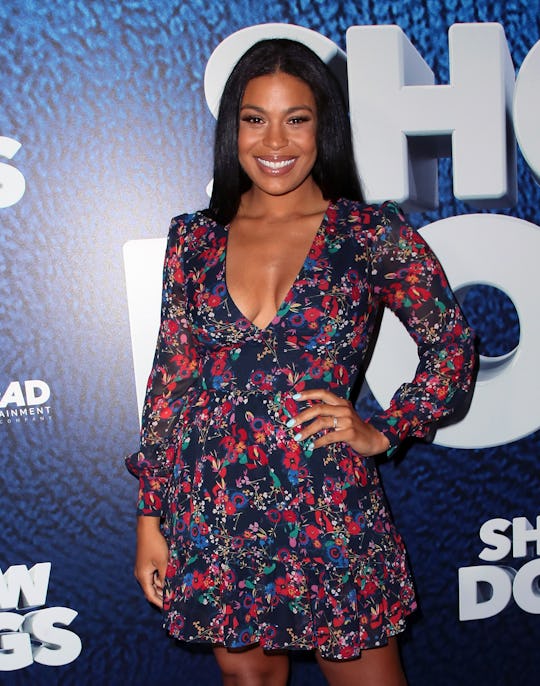 David Livingston/Getty Images Entertainment/Getty Images
Jordin Sparks Says Her Son's Umbilical Cord Was Wrapped Around His Neck, & It Sounds So Scary
The littlest American Idol has arrived! On May 2, Jordin Sparks welcomed her first child along with her husband, model Dana Isaiah. Just three days after giving birth, the American Idol winner pulled a Kate Middleton and hit the red carpet to promote her film Show Dogs. At the premiere, Jordin Sparks shared a scary story about giving birth to her son with People.
"The umbilical cord was wrapped around [the baby's] neck twice," Sparks, 28, reportedly told People. She explained that her husband was easily able to catch the baby, despite the compromised umbilical cord, adding that she was happy a midwife was nearby to quickly fix the situation.
"I didn't see it because I was facing the other way," Sparks told the outlet. "[My husband] said it almost looked like a scarf — it was wrapped around his neck and bod." Luckily the midwife "got [the umbilical cord] off really quickly," all while her husband was still holding their baby.
"Then he was good to go," Sparks continued. "'[He] took his first breath and then [my husband] handed him to me."
Sparks delivered her son, named Dana Isaiah Thomas Jr. aka DJ, via a natural water birth at the Natural Birth Center & Women's Wellness in Los Angeles. She explained to People that the birth center is across the street from a major hospital, and that if there were any complications beyond the wrapped umbilical cord, they would have been rushed over to the hospital.
When an umbilical cord gets wrapped completely around a baby's neck, it's known as nuchal cord, as explained in a 2005 paper on Obstetrical & Gynecological Survey. Six to 37 percent of babies have a nuchal cord at the time of birth, and it's difficult to determine via ultrasound before birth if a baby has nuchal cord, according to the paper.
Additionally, the likelihood of a nuchal cord increases as the pregnancy gets further along, as explained by a paper published on the National Center for Biotechnology. In very rare instances, if the cord is wrapped very tightly around the neck, restricting blood flow or breathing, it can have long-term effects on the baby. Luckily, Sparks' midwife was able to quickly unwrap the umbilical cord, and DJ seems to be doing just fine.
"He's here & we couldn't be more in love!!! Go DJ! 💙🦋" Sparks captioned an Instagram photo of her son on Sunday. In the picture, which was also shared by People on Instagram, he is wearing a teeny-tiny hat emblazoned with his nickname DJ.
Isaiah (the dad, not the baby), 26, has already shared several photos of baby DJ, expressing his love in the captions. "If you only knew how much daddy loves you! 🗣😩👶🏽🖤," he wrote alongside one shot. "Can't. Get. Enough. So in love. 👶🏽👸🏽💙❤️," he captioned another. "Forever changed. Forever grateful. Thanks to the big man upstairs (God) for a healthy baby boy 👶🏽💙," he captioned a photo of himself holding his newborn.
The couple first announced that they were expecting — and that they had low-key tied the knot — back in November. "Thank you for all the love, well wishes & encouragement!" Sparks wrote on Instagram at the time. "We're excited to share this next chapter with you. It's all new so @_danaisaiah and I will take it one step at a time. I can't wait to see what God does next!"
A few weeks later, Sparks and Isaiah shared the results of their sex reveal party on Instagram, captioning the blue confetti-ridden photo:
IT'S A BOY!!! We have so much to be thankful for and this is definitely at the top of the list! @_danaisaiah's gonna have a little mini me running around! We can't wait to meet him. We love you lil man! 💙💙💙💙
Sparks and Isaiah must have been so relieved that DJ's nuchal cord was resolved so quickly. Congrats to the happy couple on their new bundle of joy!
Check out Romper's new video series, Bearing The Motherload, where disagreeing parents from different sides of an issue sit down with a mediator and talk about how to support (and not judge) each other's parenting perspectives. New episodes air Mondays on Facebook.