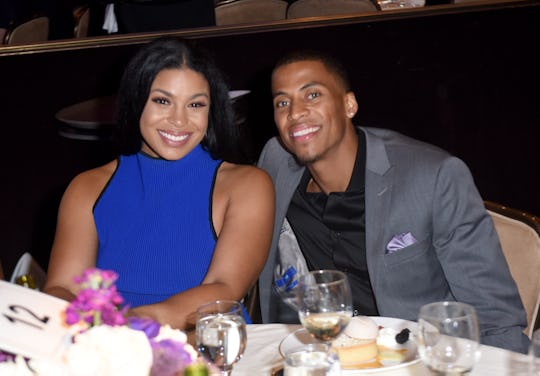 Vivien Killilea/Getty Images Entertainment/Getty Images
Jordin Sparks Welcomes Baby Boy, & She Is So Excited
The Hollywood baby boom continues, and it's pretty much the most amazing thing ever. And this time around, it's another American Idol alumni. Jordin Sparks just welcomed a baby boy, and she couldn't be more excited to be a first time mom.
She and husband, model Dana Isaiah, welcomed their first child on May 2, baby boy Dana Isaiah Jr. who will reportedly be called D.J. Sparks delivered her 8 pound 4 ounce baby with the help of a midwife and her husband at the Natural Birth Center & Women's Wellness in Los Angeles. The singer told People about the experience of having her first child, saying, "It was miraculously beautiful. Dana caught him with my midwife, Simona, and when he handed him to me, I was absolutely overwhelmed with joy. He was and is everything we imagined. I'm feeling pretty good! I am so grateful for my husband and amazing team at the Natural Birthing Center. I don't think I would be feeling this great without them!"
The singer surprised fans back in November when she not only announced that she was pregnant, but that she had also married Isaiah in July in a secret ceremony. Which makes sense, because we know that secrecy is very en vogue in Hollywood these days.
The "No Air" singer has been fully enjoying being pregnant for the first time although she did experience a few interesting side effects, especially in her second trimester, as she told Us Weekly:
My appetite went away! I just don't think about it, which has never been me. I've thought about food my entire life. I love food, so that's been one surprising thing.
And of course, Sparks has been enjoying being a newlywed at the same time. She and Isaiah enjoyed a babymoon together in Mexico back in February, and she couldn't help getting mushy about how sweet her husband has been throughout her pregnancy. She told Us Weekly:
If my back hurts, he says, 'Can I rub it for you?' He surprises me a lot with things like flowers. He got me this pregnancy tea that I drink all the time now.
Now that their baby boy has arrived, things will obviously change considerably. While the couple have really enjoyed working out together and posting pics on Instagram in the past, Sparks suspects some of his affiliations might change once their son gets older. As she told People:
I was talking to [husband Dana Isaiah] the other day [and] I was like, 'I just have a feeling you guys are gonna conspire against me. I feel like it's gonna be one of those things where it's like, 'Don't you tell your mother about this.' And then I'm gonna have to find out a week later about something.
I hope this happens, because it sounds like an adorable, well-intentioned sitcom.
For now, the couple are just embracing the moment and thinking about what the future will bring for them. As Sparks told People:
I've always loved kids and knew that if given the blessing, that I would love and embrace it more than I realized. It's only been a few days and I love it so much already! The joy, laughter, scrapes and bruises…I can't wait for it all!
Here's hoping that all good things continue to happen for the ever-positive, ever-smiling Jordin Sparks and her new little family. That her baby will sleep through the night, will never have a temper tantrum, and will maybe even potty-train himself as soon as possible.
It could happen, guys. We don't know how things go with celebrity babies, after all.