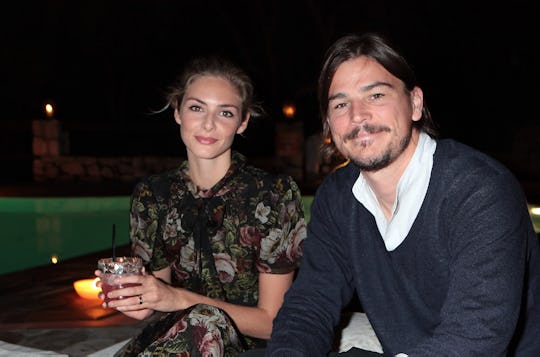 Josh Hartnett & Tamsin Egerton Had A Baby, & Here Are Some Name Suggestions For The '00s Star
It seems like it's baby season in Hollywood. On Dec. 2, US Magazine reported that Josh Hartnett and Tamsin Egerton welcomed their first child, and our 2000s fan-girl hearts fell to a puddle on the floor. Because the couple is super-serious about their privacy, we know don't know much about the newest addition to their family. But that leaves plenty of room to guess — and even more for name suggestions.
The magazine reported that the pair was seen leaving the St. Mary's Hospital in London on Dec. 1, with Harnett lugging the little one in the baby carrier. Though news broke in July that Egerton was expecting, there isn't much info out about the baby beside the fact that he or she has finally made their debut!
Privacy is something that Harnett, especially, prioritizes. While promoting the Showtime series Penny Dreadful, the 37 year old told USA Today that he keeps his off-screen life under tight wraps. "I purposefully didn't want people to know too much about my personal life because I think a lot of people give it away for free," the Black Hawk Down actor said in May. He continued:
I think if you spend too much time courting people's attention into your personal life, you lose your ownership of it. That's why I make sure my life is my own. I was not a dumb kid. I was a little bit wary of this business. I saw what it could do to people pretty quickly.
Since we don't know the baby's name — or even its sex for that matter — here are some monkiers the celeb couple are sure to love:
Laura
Harnett and Egerton met while filming The Lovers in 2010 (though their relationship wasn't made public until 2013). Laura — the name of Egerton's character in the film — is not only a short and sweet, but is a subtle way to commemorate their relationship.
Madison
Not only is Madison a super popular name this year, but it's a unisex name that has tons of variations. So, even though it's trendy, Harnett and Egerton are sure to have a unique spin on it.
London
Not only is this name great because it pays homage to Egerton's home country, but it is also the city where the baby was reportedly born. And like Madison, the name is unisex! (You can thank me later, Josh.)
Darnell
Since the couple is all about their privacy, how fitting would it be to incorporate it in their child's name? According to Behind the Name, Darnell is a French name meaning "hidden" or "secret".
Regardless of what name they settle with, congrats to the couple!
Image: Elisabetta Villa/Getty Images for Il Pellicano, Pixabay