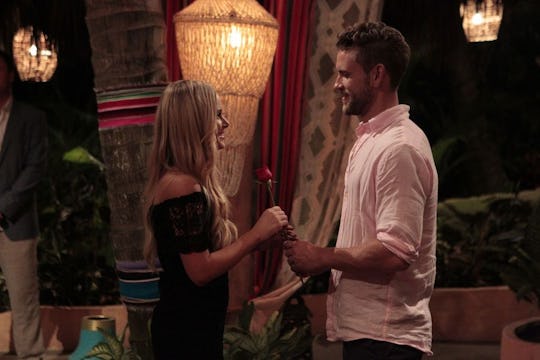 ABC/Rick Rowell
Josh Murray Asks Amanda On A Date On 'Bachelor In Paradise' & Nick Doesn't Like It
If you're a longtime citizen of Bachelor Nation, you know Josh and Nick have a contentious history. Josh has "stolen" the girl Nick was dating multiple times, and now Josh is pulling the same moves on Bachelor in Paradise. Nick did not see this coming, especially because Josh was not in the cast the first several nights. He swooped in, however, and was back to his old game. Josh Murray asked out Amanda on Bachelor in Paradise, and Nick was pretty upset.
You can't truly know why Nick was so pissed off about Josh "Mr. Steal Your Girl" Murray, you have to look back into previous seasons of The Bachelorette. They first encountered each other on Andi Dorfman's season of the show, and they ended up in the final two. Andi picked Josh, and told him that she and Nick did not have sex in the fanstasy suite when they did – and Nick brought that up on After the Final Rose. Both Andi and Josh were not happy about that.
Fast forward a little, Andi and Josh broke up before getting married. Nick went on another season of The Bachelorette, only to end up in second place (again). Now he's back on Bachelor in Paradise in another attempt to find love on reality television. It seemed to be actually going well with Amanda (after breaking Leah Block's heart that is)...until Josh showed up.
Nick said that Josh coming in and going on a date with Amanda incited a "Nick versus Josh, part two." Josh says he always tries to start a little drama, which is rude but refreshingly honest. He then compared them to lion and sheep: "Nick and I are on a very different level...there's lion and then there's sheep," he said. "Roar." It's clear Josh seems himself as the alpha in this situation.
According to Nick, Amanda was the only person he was interested in, which makes matters worse. He told ET outside of the show, "People have this kind of idea of this rivalry between Josh and I -- I for one, didn't take it that way. When he came in, I was more or less indifferent." He went on, "I think Josh, surprisingly, took a different approach. That world has a way of bringing out ego and pride and things like that."
To be honest, that seems like all talk, because Nick was clearly angry about Josh's behavior. What comes out of it – and who Amanda chooses – we just have to tune in and find out.