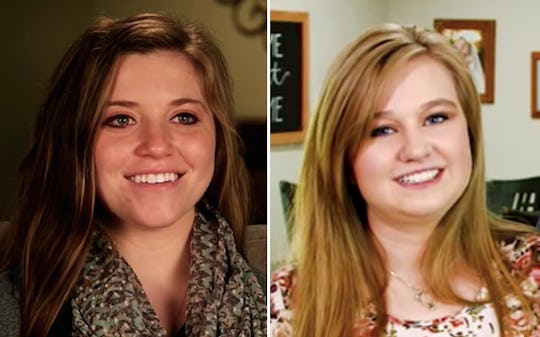 TLC/ YouTube
Joy-Anna & Kendra Duggar Posed With Their Baby Boys For The Ultimate "Twinning" Photo
Now that all of the KarJenner sisters have gone through their baby boom and their babies are safely delivered, we can all relax and move on to the next reality family's baby boom: the Duggar family. While we are still waiting on Jinger Vuolo from TLC's Counting On to give birth, the first two members of the Duggar baby trifecta have already arrived. And what's more, they're already ready for their close-ups. In fact, on Thursday evening, Joy-Anna and Kendra Duggar posed for a "twinning" photo with their babies and, of course, it's just marvelous.
The two moms each welcomed babies in 2018; Joy-Anna and her husband Austin Forsyth had son Gideon in February, while Kendra and her husband Joseph Duggar welcomed baby Garrett on June 8. In fact, it seems the two families are forever intertwined; remember Joe proposing to Kendra at Joy-Anna's wedding? Because that's a thing that actually happened.
Not that any of these smiling Duggars seem to mind sharing the spotlight with each other, of course. I guess when you're one of 19 kids you can't really be a prima donna about things. Joy-Anna and Kendra shared a picture of themselves holding their baby boys on Thursday on Joy-Anna's Instagram Story with the message "Twinning!!!" along with red heart and heart eye emoji.
It wasn't just the two baby boys who were twinning either. Joy-Anna and Kendra wore blue and black in the pic, but really switched things up by doing opposite colors. Oh, and can we talk about the fact that they are both wearing knee-length skirts? I know that the old Jim-Bob Duggar imposed standby of floor-length skirts at all times isn't being as strictly enforced as it once was, as per In Touch Weekly, but it's still a shock to see Duggar legs and feet.
It's actually nice to see Kendra and Joy-Anna bonding with their babies. I guess that's one super positive side to having a massive family; chances are you'll always have a mom friend to hang out with while your kids play at your disposal. It helps that Joy-Anna and Kendra are already really great friends. Joy-Anna gave a seriously emotional speech at Joe and Kendra's rehearsal dinner in 2017, when she said that Kendra "over the last five years has been one of my best friends." So it's pretty great that they get to raise their babies together.
While Joy-Anna has been a mom for a full three months now, Kendra is only weeks into the parenting game. New though she may be, she's already just super thrilled by the whole parenting thing, as she explained in a TLC video on YouTube, according to OK! Magazine:
It's definitely super thrilling to be parents to our sweet little guy. I think it's kind of surreal right now [but] we're super excited to get to do this journey together.
Now that these two moms — who both live close to the Duggar family homestead in Tontitown, Arkansas, according to In Touch Weekly — have their babies, there's only one more Duggar baby to wait on: Jinger.
She and husband Jeremy Vuolo are expecting their first baby, a daughter, within the next few weeks. Sure, they're all the way over in Laredo, Texas. But I've heard rumors that people can drive or fly from Arkansas to Texas and back, so hopefully Jinger's little girl will get lots of time to hang out with her baby cousins.
There is something about a big baby boom that does the heart good, I think. All of those gummy little smiles and excited parents and adorable little baby sleepers. What's not to love about that? Especially when your only responsibility is to watch them on TV. That's probably the best part.