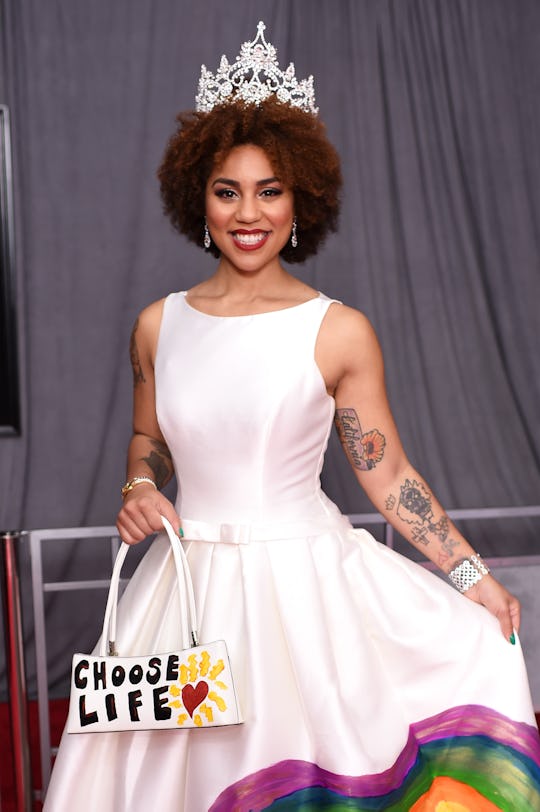 Dimitrios Kambouris/Getty Images Entertainment/Getty Images
This Singer Is Wearing Another Super Political Dress At The Grammys & It's *So* Cringe
Given the political climate this year, it only makes sense that social issues are infused into this award season, whether it's Time's Up pins at the Golden Globes or talking about diversity and sexism on the red carpet. Since artists tend to have a reputation for leaning a little left, it was pretty shocking to see Joy Villa's "Choose Life" dress at the Grammys this year, taking a very partisan stance on music's biggest night.
Then again, Villa has a tendency to rock provocative looks, like her "Make America Great Again" dress at last year's Grammy awards. It's a pretty bold thing to do, given that many of the nominated artists are vocal opponents of the current administration and its anti-choice policies, among others.
She told Fox News on the red carpet that she hand-painted the fetus and "choose life" design on the Pronovias wedding dress. She paired a tiara with it, to complete the look. "I'm a pro-life woman. This year I chose to make a statement on the red carpet like I always do," she told Fox, adding that she's for "adoption over abortion," since she gave a baby up for adoption at 21 years old.
Twitter Took Notice, Of Course
If provoking people into a conversation was her intention with the dress, then she definitely succeeded. Villa has been an outspoken supporter of Trump since the very beginning. She told reporters on the red carpet Sunday night that she's thrilled with how things are going so far. "I love what he is doing; unemployment is down. I am totally for President Trump, and it's only been one year. I can't wait for the next seven years," she said, adding that she spoke to Ivanka Trump over the holiday season.
For those out there who don't think award shows and politics should mix, it's important to note that Villa, a Scientologist, has expressed an interest in running for Congress in 2018. She wrote on her website that she's exploring her options and taking contributions to assess interest. She added on her website:
I am pro-life, pro-religious freedom, pro-Trump, pro-military, pro-increased border security, pro-legal, merit based immigration, pro-education in inner cities, pro-gun ownership rights, pro-small business tax breaks, pro-free speech, pro-populist, nationalist, America first.
Villa also came forward earlier this accusing Trump's former campaign manager, Corey Lewandowski, of groping her during a photo op in November. She told NBC News, "I was initially fearful to come forward with this. I did nothing wrong," Villa said. "I realized if he's not going to respond or apologize to me, I think it's the right thing to do." Lewandowski did not immediately return Romper's request for comment.
Her fashion choices work in her favor, for sure. Last year, Quartz reported that she gained over a 11,000 followers in just an hour after revealing her "Make America great Again" dress and her EP I Make the Static jumped up in both Apple iTunes and Amazon charts.
It is a shame that Villa doesn't seem to be very informed about abortion laws or the pro-choice movement. When Villa says that she's "pro-adoption" instead of "pro-abortion," she perpetuates a dangerous falsehood that the choice is a binary. Women have abortions for many reasons and often don't want to carry a child to term at all. This is why even conservative states include exceptions in their abortion bans in the case of rape, incest, or the health of the mother as well.
Under Roe v. Wade, the Supreme Court says that women have the constitutional right to make a choice about terminating their pregnancy up until viability, although some conservative anti-choice states restrict access to that choice as early as 20 weeks. This is before most experts believe a fetus is viable, which is usually after 23 or 24 weeks. The pro-choice movement is about ensuring that all women have autonomy over her body, not about forcing pregnancy on people who, for whatever reason, have an unplanned pregnancy.
Everyone's entitled to their opinion, of course. It's just important that stars carefully collect all the facts before using their huge platform to send a message to fans.
Check out Romper's new video series, Romper's Doula Diaries:
Watch full episodes of Romper's Doula Diaries on Facebook Watch.