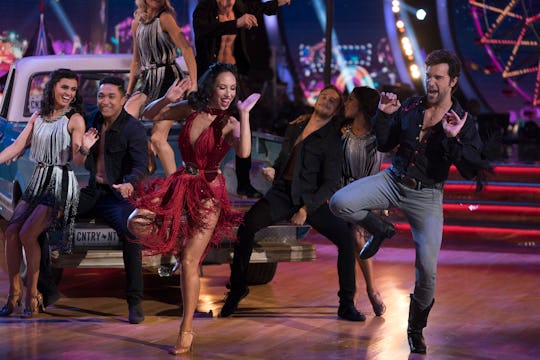 ABC/Eric McCandless
Fans Loved Juan Pablo's Tear-Jerker "Dancing With The Stars" Dedication
It's semi-finals week on Dancing With The Stars, which means the stars are stepping their game up. For the first the first dance of the night, the stars dedicated their dances to people in their lives — and their choices were definitely eclectic. But fans loved when Juan Pablo DiPace dedicated his semi-finals dance to his mom, who revealed that she battled cancer — and there wasn't a dry eye in the house.
Throughout the night, the stars chose different people in their lives to dedicate their first dance of the night to. While some chose to dedicate the dance to their fans or partner, Juan Pablo decided to dedicate his dance to a very special woman in his life — his mom. As if it wasn't a super sweet gesture in itself, Juan Pablo explained why he dedicated his argentine tango to his mom — because she had successfully battled cancer.
"The tango reminds me of my mother's warrior spirit," Juan Pablo said during his introduction package. "She inspires me every single day."
And Juan Pablo's mom was there to inspire him during his rehearsal and during the final performance, where she watched her son dance her heart out during both of these times. Needless to say, people on Twitter were inspired by his mom's story — and some were even driven to tears.
Sure, fans were super into Juan Pablo's dedication to his mom and the fact that he hugged his parents once the dancing was over. But, they were more into his Argentine tango, which was super intense, inspired, sexy, and so well done.
Seriously, fans on Twitter were freaking out over the dance. If people weren't already fans of the actor before, this dance definitely converted them into loving the actor.
This is one week that judges agreed with fans. Juan Pablo and Cheryl's super intense (and spicy) Argentine tango won the couple 10's from all of the judges and giving them yet another perfect score this season (and adding another perfect 30 to their growing collection).
"You are in a class of your own," judge Carrie-Ann Inaba told Juan-Pablo during the show, according to Entertainment Tonight.
In spite of the intensity that Juan Pablo gives off during his dances (especially during this argentine tango), he told Entertainment Tonight early on in this season that he doesn't consider himself to be a heartthrob (even though he definitely is).
"I don't consider myself to be a heartthrob," Juan Pablo said. "I'm more of a grandpa inside. I'm a sexy grandpa."
With this kind of reaction to just one dance, it makes sense why a lot of people think that Juan Pablo will win this season of DWTS. Not only were Juan Pablo and Cheryl the first couple to receive the first perfect 30 during week three of this season (yes, it was that early), but the couple also has a fierce fan base that makes sure that they get through each round from week to week. Since the DWTS finale is next week, it makes sense why people would assume that they could make it all the way to the end — especially since they're almost there.
After showing this sentimental side to himself during the semi-finals, it's clear that Juan Pablo is in it to win it. And fans are thinking the same exact thing.